The Service announces new leadership structure to support pioneering strategy
At our Annual Public Meeting today (24 September) we will announce our new leadership structure, implemented on 2 September. 
Eighteen months into the London Ambulance Service's ambitious strategy to better support the wider NHS by integrating urgent care across the whole capital, the Trust today will announce its new top team. The brand new structure will provide greater bandwidth, taking full advantage of the best experience of those recently appointed into key roles.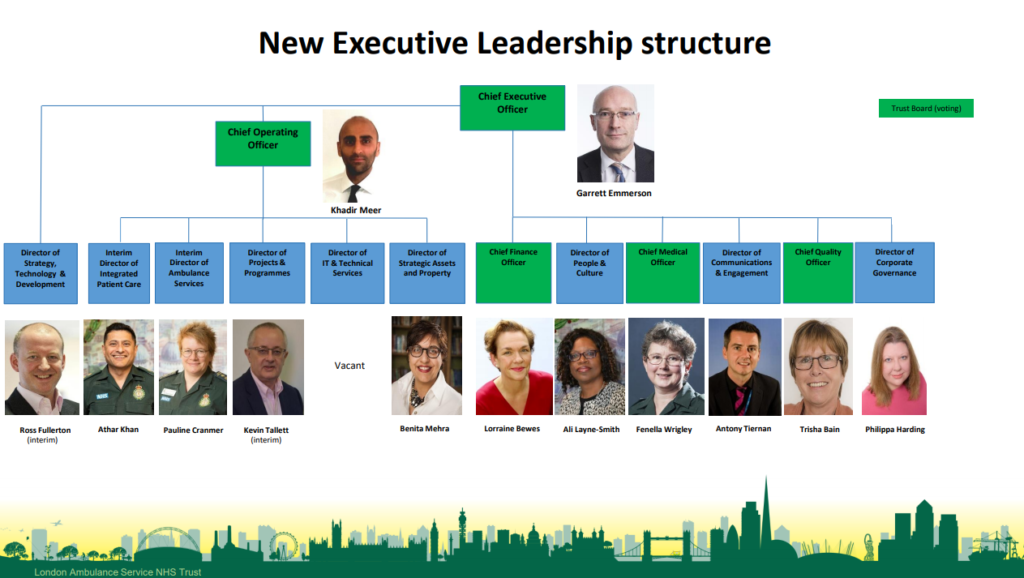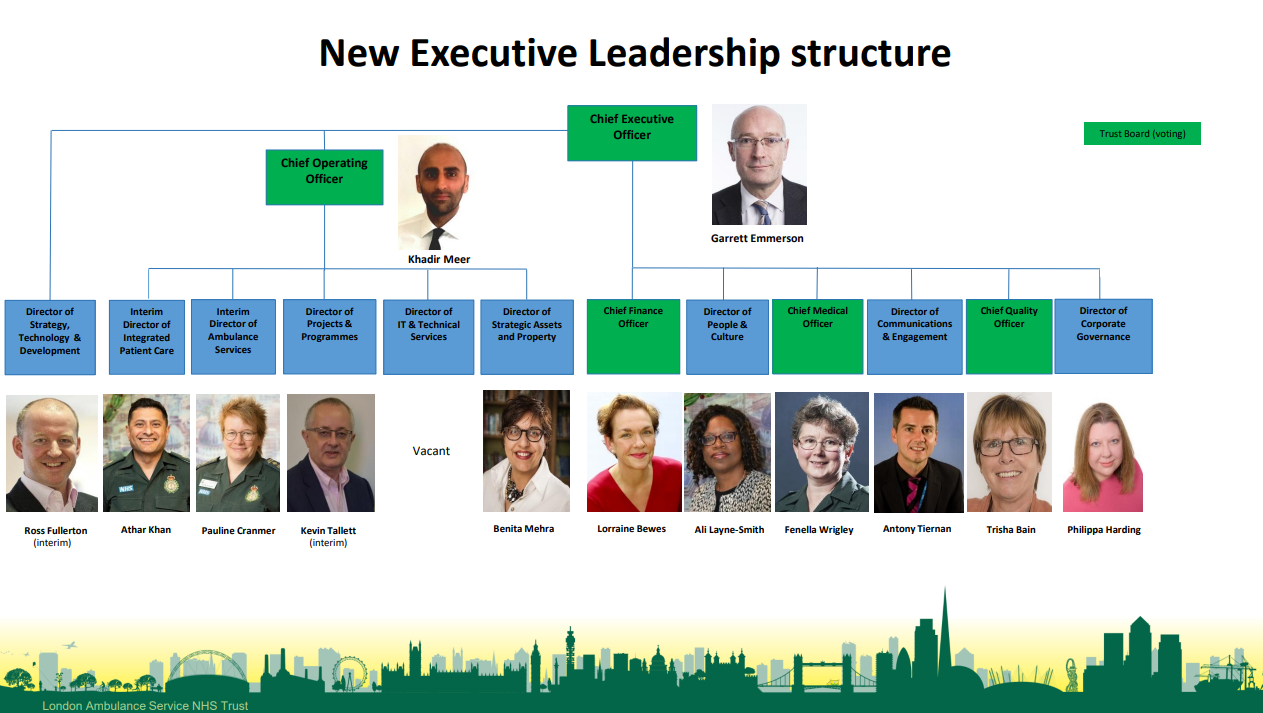 Khadir Meer joined the Trust as its first Chief Operating Officer on 2 September. The role of Chief Operating Officer was introduced to ensure greater focus on, and more joined up and efficient, operational service delivery.
Khadir oversees all aspects of London Ambulance Services's operating business which takes around 3 million 999 and 111 calls, and attends 1.2 million incidents, each year. Specifically, Khadir's portfolio includes:
Integrated patient care (including both 111 and 999 call answering and clinical triage)
Emergency ambulance services
Projects and programme delivery
Technical services
Asset and property management
Antony Tiernan joined the Trust in August as the new Director of Communications and Engagement and leads the external communications, internal communications and partnerships teams as well as leading on volunteering and public and patient education, including knife-crime education.
Volunteering is an important new priority for the capital's ambulance service as it continues to seek bolder and more innovative ways to support frontline staff who already provide outstanding patient care to Londoners.
Volunteers are crucial to the NHS's vision for the future of health and social care as partners to complement our highly skilled staff. The drive to recruit more committed volunteers is very much a part of the NHS Long Term Plan, a ten year strategy launched at the beginning of the year to future-proof the NHS.
Ali Layne-Smith joined the Trust earlier this month as its new Director of People and Culture, leading a team that encompasses areas including Talent, Workforce Analytics and Engagement, Diversity and Inclusion, Employee Relations, Staff Experience and Leadership and Performance.
Organisational culture is a real focus for the Trust as it strives to become an employer of choice in London for clinicians and other professionals who want to make a positive and lasting difference to the healthcare of Londoners.
This is in line with the Interim NHS People Plan, developed collaboratively with national leaders and partners to grow the NHS's workforce, support and develop NHS leaders and make the NHS the best place to work in Britain.
The full structure, which includes a number of interim director roles for some of our most experienced senior leaders, can be seen here:
Notably, the Chief Operating Officer will look after a newly split operations portfolio separating 999 and 111 call answering from emergency ambulance services in line with the drive to further integrate our service provision, whilst continuing to improve our response to patients.
Heather Lawrence, Chair of London Ambulance Service said:
"We remain relentlessly focussed on integrated service provision, because that is the future for the capital's ambulance service.
"Eighteen months into our five year strategy we are set to improve outcomes and experiences for all our patients by providing the right care to patients, at the right time and in the most cost effective way. This will mean up to 122,000 fewer patients being taken to emergency departments when their needs could be better met closer to home, and we will deliver significant efficiencies in avoided costs to the urgent and emergency care sector.
"To achieve this, we cannot stand still and so our new structure under the leadership of Garrett Emmerson CEO, has been implemented with the full support of the Board, to support the tremendous work that each and every one of our 6000 staff and volunteers do each day."
At the Annual Public Meeting, as well as focusing on integrated urgent care, there will be a key note speech by Martin Griffiths, newly appointed Clinical Director for the Violence Reduction Network at NHSI&E on preventing knife crime in London, a subject on which Heather Lawrence in particular is dedicated to tackling together with our partners in the other emergency services and wider NHS.