Calling 999
When to call 999
In a serious medical emergency.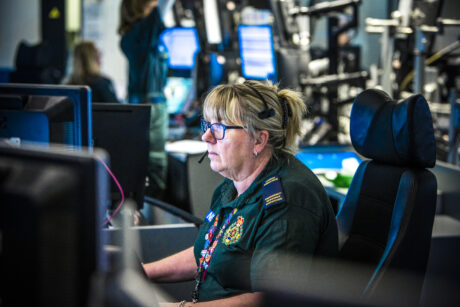 Always call 999 if someone is seriously ill or injured, and their life is at risk.
Examples of medical emergencies include (but are not limited to):
difficulty in breathing
unconsciousness
severe loss of blood
severe burns or scalds
choking
fitting or concussion
drowning
severe allergic reactions.
If you no longer need an ambulance or you can make your own way to hospital, you should call back on 999 to let us know. Crews can then be redirected to another patient who needs us.
However, people are asked not to ring back to ask how long crews will be as this could delay our call takers speaking to someone about a seriously ill or injured patient. You should only call back if the patient's condition worsens or they no longer need help.
If you've been advised that our crews are on their way, please: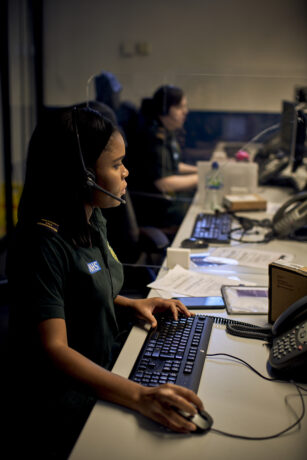 Take any pets to another room

Turn on any outside lights if it's dark – so we can see your house number

Have someone flag down the ambulance crew if possible

Make sure any relevant medication and medical documents are to hand

Put on a face covering – and ask others in the property to do so – where possible
Calling 999 doesn't mean we'll definitely send you an ambulance. We'll provide the most appropriate response, which may be a clinical telephone assessment or referral to another NHS service.
Also, calling 999 if it's not a serious emergency will not mean you're seen quicker if you're taken to hospital.
When it's not a life-threatening emergency
If it is not a life-threatening emergency and you, or the person you are with, do not need immediate medical attention, consider other options before you dial 999:
Look after yourself or the patient at home. Many minor illnesses and injuries can be treated in your home by using over-the-counter medicine and getting plenty of rest. If you cannot stay at home, see if family or friends are able to help.
Talk to your local pharmacist.
Visit or call your GP.
Visit the NHS 111 online website.
Call NHS 111.
Make your own way to your local A&E department, walk-in centre, minor injuries unit or urgent care centre. (Arriving in an ambulance does not necessarily mean you will be treated more quickly.)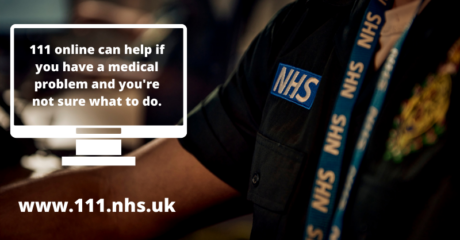 Not sure where your nearest health services are? Visit www.nhs.uk.
How to call 999
You can call an ambulance by using 999 or 112.
If you are deaf, hard of hearing or speech-impaired you can contact us by texting from your mobile. This facility is available in any type of emergency and is for people who can't use the standard 999 voice or the RNID's text relay services.
To use the text service you must register your mobile phone on the emergencySMS website.
What happens when you call 999

When you call 999, an operator will ask you which emergency service you need.

In a medical emergency, ask for the ambulance service and you will be put through to one of our call-takers.

What information will I need when I call 999?

In the video below Jules Lockett, from our control room training team, explains how the information you provide to us helps us.

You will need to have the following information available when you call 999:

The location where you are, including the area or postcode.
The phone number you are calling from.
Exactly what has happened.

As soon as we know where you are we will start arranging help for you.

You will also be asked to give some extra information, including:

The patient's age, gender and any medical history;
Whether the patient is awake/conscious, breathing and if there is any serious bleeding or chest pain; and
Details of the injury and how it happened.

Answering these questions will not delay us, but it will help us give you important first aid advice while our staff are on their way.

The extra information also helps us to make sure you get the most appropriate help.

What can I do before help arrives?

Before help arrives, you can help us by doing the following:

If you are in the street, stay with the patient until help arrives.
Call us back if the patient's condition changes.
Call us again if your location changes.
If you are calling from home or work, ask someone to open the doors and signal where the ambulance staff are needed.
Lock away any family pets.
If you can, write down the patient's GP details and collect any medication that they are taking.
Tell us if the patient has any allergies.

How can I be prepared for an emergency?

There are things you can do today to help us in the future.

Check that your house number can be seen from the road.
If you live on an estate, check there is a clear sign to direct emergency services and that all lifts are working.
If it's dark outside turn on lights to help our staff to find you quickly.

How you can help us find you in an emergency using What3Words

It is a good idea to download the location-finder app What3Words. This app helps us find you if you need the emergency services but don't know exactly where you are or you're in a large area like a public park. London Ambulance Service emergency call handler Mohammad explains: