Volunteering with us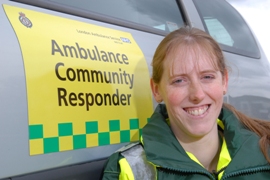 Every day we receive 999 emergency calls from people in a life-threatening condition. Each one of these calls could need basic life-saving skills as quickly as possible.
We reach most of these patients within eight minutes, but if someone in the next street had the basic skills and equipment they could get there in even less time. This would make a big difference in saving a life.
By volunteering to become an Ambulance Community Responder, you could be responding alongside us to life-threatening emergency calls in your area. We would give you training, equipment and support, and you could start saving lives.
When time is the difference between life and death, you could make a big difference in saving someone near you in a medical emergency.
Eligibility
To be eligible to volunteer you must:
Be physically fit
Work well under pressure
Be a good communicator
Have held a full driving licence for at least two years
Have access to a roadworthy vehicle
Undergo a Criminal Records Bureau check
You can find out more at an upcoming information evening or by expressing interest.
To find out if you've got what it takes to be a successful volunteer read our volunteer profiles.