Meet some of our Emergency Responders
We currently have nearly 150 volunteers in our Emergency Responder team.
Volunteers come from all walks of life – from teachers to solicitors and pilots to dentists!
We have volunteers with military backgrounds, police officers, firefighters, London Ambulance Service staff – including people who work in our control room team but also corporate and support staff, nurses, medical students and physiotherapists
Other professions include people who work within the NHS in managerial roles, teachers, radiologists and business owners.
There are also airline pilots, people from the legal and finance industries, scientists, pharmacists, dentists, energy consultants and people who have retired. There's a big variety in the backgrounds of our volunteers!
Stephanie Smith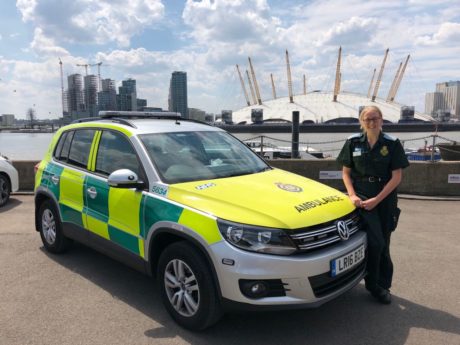 Stephanie has been an Emergency Responder since 2017 and is a registered nurse.
She does shifts as and when her rota allows and joined the scheme as she had always been interested in pre-hospital care, so saw the scheme as an opportunity to further her knowledge and understanding of pre-hospital care.
She'd also worked in an A&E department for three years and having spoken to ambulance crews, she wanted to help wherever she could as demand on the ambulance service increases each year.
Ian Burgess
Ian runs his own software company and joined the scheme in 2013.
He'd been involved in the London Ambulance Service and St John Ambulance 'Community First Responder' scheme and saw becoming an Emergency Responder as a natural progression.
Ian typically does ER shifts on weekday daytimes. He finds volunteering his time as an Emergency Responder extremely rewarding and sees it as a fantastic opportunity to give something back.
In Ian's view to be a good Emergency Responder you must be compassionate, a good communicator, logical and good under pressure.