Our plans for the future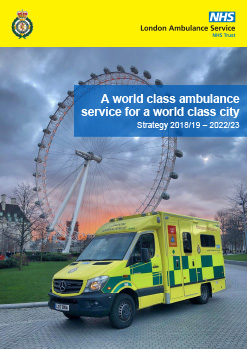 Our vision is to become a world-class ambulance service that is at the heart of urgent and emergency care in London, contributing towards Londoners having health outcomes that are amongst the best in the world.
To achieve this, we have set out an ambitious strategy that will see us change the way we deliver our Service:
We have also published a summary version of the full strategy document: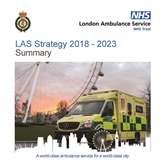 Background to our new strategy
We published our strategic intent at the end of 2017, which described our need for change and how we plan to evolve in order to achieve improved outcomes and a better experience for our patients.
After receiving feedback on this, we developed the new strategy itself.
We want to ensure our patients receive the right care, in the right place, at the right time
This will start at the point that people seek help. We want to become the single point of access in the capital for patients who need urgent or emergency care. However they choose to contact us – by phone or online – we will provide an integrated clinical assessment and prioritisation service that will mean they get the right care, first time round.
We will also enhance the care that we provide to all our patients. As well as continuing to provide fast, high-quality life-saving treatment for our most critically ill and injured patients, we will place greater emphasis on assessing and treating those with other clinical needs, only taking them to emergency departments when that is really needed.
We will start by developing a more specialised response to some key patient groups including people who have fallen, patients with mental health needs, maternity patients and those who are approaching the end of their lives.
We will treat more patients at home or on scene, and provide more clinical advice over the phone or online. And we will work with our commissioners and the rest of the NHS in London to develop a more consistent and equitable range of healthcare options, so that we can direct or take patients to the right place for their individual needs.
We can't do this alone. We want to work with health and emergency service partners across the capital to deliver change that will provide care that is more consistent, fairer and better value – benefiting all our patients, and generating savings for the NHS as a whole.
Our Enabling Strategies