Career opportunities
We employ around 8,000 people, and everyone has a role to play in keeping our service working for the benefit of our patients.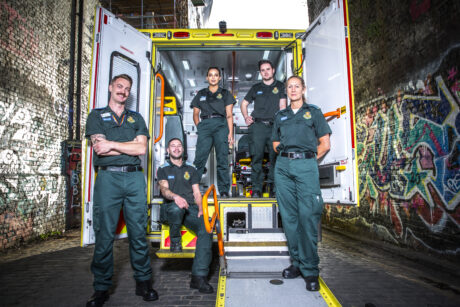 We have more than 3,300 frontline staff based at our ambulance stations across the 620 square miles of the Greater London area, and around 500 people work in our two control rooms in Waterloo and Bow.
Our support services departments also play a vital role in our day-to-day work, from managing our finances and keeping our IT systems working to recruiting new staff and keeping them informed.
And wherever you work in our organisation, there are opportunities for you to develop your skills and progress your career.
For all our staff, there is the job satisfaction of knowing that what you do makes a difference, but we offer a range of other benefits as well. Find out what they are.
Getting in touch
If you have any queries about working for us please call or email our recruitment department.
Direct line: 020 3069 0260
Email us: find email addresses for each recruitment department on our contact us webpage.
Answers to some commonly-asked questions
We've created FAQ documents for four of our most popular roles: Assistant Ambulance Practitioner, Emergency Call Handler, 111 Health Advisor and Newly-qualified Paramedic.
You can find these at the links below. This may answer a question you have – please take a look before you contact our recruitment team.
Apprenticeships
At London Ambulance Service we offer apprenticeship programmes to help our staff expand their knowledge, skills and competencies and develop in their careers.
Apprenticeships are a great way to progress within your career with us. If you're considering a career in our Service and you do not have a paramedic degree, our apprenticeships could be an alternative route to that role. Find out more about apprenticeships in our Service here.
The LAS career pathway for frontline ambulance staff
1) Non-Emergency Transport Service (NETS)
Non-Apprenticeship
10-12 weeks of on and off the job training
2) Assistant Ambulance Practitioner (AAP)
Apprenticeship
Level 3 Ambulance Support Worker Standard
13 months of training
3) Emergency Medical Technician (EMT)
Apprenticeship
Level 4 Associate Ambulance Practitioner Standard
15 months of training
4) Paramedic