Apprenticeship opportunities
At London Ambulance Service we offer apprenticeship programmes to help our staff expand their knowledge, skills and competencies and develop in their careers. We are delighted to be in the top 100 Apprenticeship Employees in the country (position 18) and the top NHS trust.
Apprenticeships are a great way to progress within your career with us. If you're considering a career in our Service and you do not have a paramedic degree, our apprenticeships could be an alternative route to that role.
Our Associate Ambulance Practitioner apprenticeship is a route to becoming an Emergency Ambulance Crew (EAC). Here, you would not need to have prior medical qualifications.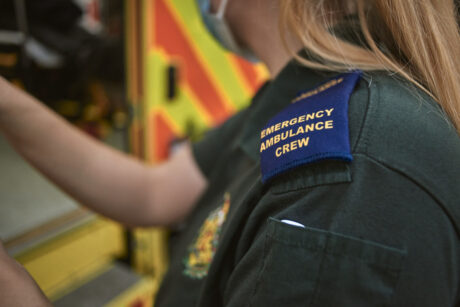 This programme is 18 months long. It begins with 22 weeks of training and for the rest of the programme the trainee will work alongside practice educators and be supported by our team of clinical link tutors. At the end of the 18 months there is a final End Point Assessment (EPA) to be awarded the apprenticeship qualification.
Our paramedic degree apprenticeship is open to existing staff, such as EACs and Emergency Medical Technicians (EMTs), to become paramedics. This is delivered with the University of Cumbria (London) and is a mixture of classroom and online learning undertaken in one week of every six and alongside existing shifts. Apprentices on this programme also learn new skills on the job, working alongside qualified experienced clinicians and from the support of practice educators.
Upon successful completion of the two years of learning, apprentices will be awarded a degree and will become a qualified paramedic –with the same qualifications as paramedic science degrees – with a guaranteed position as a paramedic in our Service at the end.
We also offer staff apprenticeships to help them develop and gain new knowledge and experiences. This includes Leadership and Management apprenticeship programmes to development management skills. This results in qualifications and membership recognition from professional bodies such as the Chartered Management Institute (CMI) and the Institute of Leadership and Management (ILM).
Apprenticeships case studies - Brian

Brian Williams – Emergency Operations Centre Watch Manager

Brian is one of our Watch Managers in our control room team – where we answer 999 emergency calls, provide instructions and advice to callers and dispatch our resources to patients across the capital.

Brian is currently doing a Level 7 Senior Leaders apprenticeship.

"The apprenticeship has allowed me to relate academic learning and new knowledge directly into my role in the Service. I'm also able to network with professionals across the NHS and other organisations across the UK and internationally.

It is challenging but had been made much easier by the support from my line management and peers.

The apprenticeship equips me with tools and theories that I can use to improve my capabilities and skills as a leader and therefore improve working processes and team working within my department – and hopefully further.

To people thinking of doing an apprenticeship, I'd say do it. It is unusual to be able to study and work with protected time to do so. This is a great opportunity for any grade of staff to showcase their skills and to learn and develop themselves personally and professionally."

Apprenticeships case studies - Abidemi

Abidemi Yusuf – Recruitment Advisor

Abidemi works in our recruitment team – helping the Service attract the brightest and best to our team as we aim to build a world-class ambulance service for a world-class city.

He's currently undertaking a Level 5 HR Consultant/Partner apprenticeship.

"My apprenticeship has made me confident in my role, refreshed my mind and provided me with more HR knowledge. 

It has been very rewarding so far as it has broadened my skills and knowledge in HR and Recruitment. It also helped me to secure the Recruitment Advisor role and made me more confident.

 I would say to anyone wondering about doing an apprenticeship to definitely go for it: you will be able to develop yourself and you also receive a qualification.

 My long-term ambition is to progress through the rank of HR and continue to widen my knowledge in HR and Recruitment. Once it is time for me to study my Level 7, I will be looking to complete it via an apprenticeship route."

Apprenticeships case studies - Patrick

Patrick Hunter – Senior Sector Clinical Lead

"The Senior Leader's Master's Degree Apprenticeship [SLMDA] has helped me by providing a clear and supported structure to my personal development plan.

The programme covers a wide variety of topics including Strategy, Innovation and Change, Finance, Leading and Developing people, Enterprise and Risk, Engaging employees, and Organisational Culture.

It has helped develop my critical thinking and communication, and encouraged me to question the status quo.

This is a three year programme which includes an MBA in leadership practice. As such you should expect it to be challenging.

Time management is key to fitting this in around my full time role in the Clinical Directorate. The topics have pushed me way out of my comfort zone. However, the feedback from the tutors has been very helpful (they don't hold back) and it is rewarding when a new concept finally makes sense.

I already see the world of work through a new lens having enrolled on this programme. The models and theories you learn can immediately be compared and applied to the day to day life in the LAS. This immediate application is satisfying and makes the learning real and relevant.

The SLMDA has broadened my understanding of multiple areas. As a result I have developed working relationships with people from all over the trust: from Patient Experiences to Strategy, from Operations to Finance.

Working alongside the apprenticeship has helped me understand how the whole organisation needs to work together to achieve its mission whilst maintaining its core values of professionalism, respect, innovation, and collaboration. I also believe that the skills and knowledge I have gained will now provide ongoing value to the Trust as a whole.

 What would I say to people thinking of doing an apprenticeship?

Check with your family first.
Is it a good time to take this on? You will need to put 12 hours a week aside to keep up.
Have you got the stamina to persist?
If yes, don't hesitate. Do it.

My ambition from doing this apprenticeship is to continuously improve and develop as a reflective clinical leader in the NHS.