Paramedic Science degrees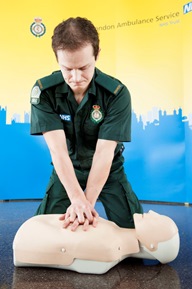 If you are considering a career as a paramedic, one option is to undertake a degree in Paramedic Science with one of our four university partners — University of Hertfordshire, University of Greenwich, Anglia Ruskin University and St George's University of London.
As part of these programmes, you will have the opportunity to put theory into practice by taking part in placements with us.
Full-time programmes
Is funding available?
If you enrol on a full-time programme, you will be responsible for paying for your academic fees during the course.
No funding is available via the London Ambulance Service, though you may be eligible for support via your local education authority.
How do I apply?
You will need to apply directly to the university of your choice and have a good standard of education. This is generally five GCSEs at grade C or above (including maths, English and a science) or equivalent.
You will also need:
120 CATS points (equivalent to one A-level) for entry onto the Foundation Degree programme.
360 CATS points (equivalent to three A-levels) for entry onto the BSc Hons programme.
If you are a mature student, equivalent qualifications and experience will be considered.
You will also need to have a full manual UK driving licence, however driving experience, number of points on a driving licence and the need for provisional C1 on your licence may vary depending on the course.