Emergency Responders (ERs) are London Ambulance Service-trained volunteers who attend a range of emergency calls in Service uniform and in blue-light response cars.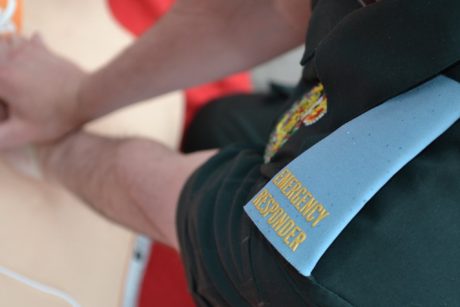 They are currently based at St Helier, Friern Barnet, Bromley, Hillingdon, Ilford, Isleworth, and Waterloo ambulance stations. Each station also has a volunteer ER Team Leader to support with admin and welfare.
Emergency Responders operate in charity-funded blue light vehicles and work under London Ambulance Service management and policies.
We currently have nearly 150 volunteers in our Emergency Responder team.
In 2020 they did 2,422 shifts which amounted to 28,868 volunteer hours and attended nearly 9,000 emergency calls. Of these emergency calls, an ER team was on scene first in 5,500 cases. In terms of the response to Category 1 calls – the most serious, life-threatening emergencies, ERs were first on scene 431 times – which amounts to once per day.
Emergency Responders and the response to Covid-19
During the coronavirus pandemic, our volunteer responders – including ERs – played a huge role in helping us give Londoners the care they need.
ERs have been doing more shifts than ever before during the coronavirus: volunteering their time to respond in pairs in response cars, but also – for the first time – responding alongside 'regular' clinicians in ambulances.
In 2020, 23 per cent of total ER hours were on a double-crewed ambulance.
Hear from two Emergency Responders, Ben and Cornelius, on how they helped the Service during our response to the coronavirus in the below video. You can also read more profiles of volunteer responders and their contribution during the pandemic here.
Emergency Responder scope of practice

The core training of Emergency Responders is the FutureQuals Level 3 Award for First Responders on Scene: Ambulance Service Co-Responder qualification.

Emergency Responders also undertake regular Continuing Professional Development sessions throughout the year.

They attend a variety of medical and trauma calls.

Applying to join the Emergency Responder scheme

There are currently no plans to hold a recruitment process for 2024. Please check website for future updates.

Applications will be considered from anyone who meets all of the following criteria:

• Is over 18 years of age at the time of the application
• Hold a valid First Aid certificate (or equivalent) that covers a minimum of Basic Life Support & defibrillation (proof will be required)
• Can evidence experience in dealing with stressful incidents.

The following are not eligible to apply:

• HCPC Registered Paramedics
• NHS Trust / private employed emergency ambulance crew / technician equivalent.

Other Frequently Asked Questions

What is the commitment?

After passing the application and assessment centre process, applicants will be required to undertake the required online pre-learning and an initial full-time six day training course. You will need to complete a minimum of 32 hours consolidation (within your first two months) as an additional person on shifts.

Once you have completed your consolidation period you will be expected to commit at least 16 hours per month on shifts. Shifts are normally eight hours but can be altered to fit your availability. You will also be expected to attend a minimum of four Continuous Personal Development (CPD) sessions of approximately two hours each, per year.

What does the assessment centre involve?

The assessment centre will comprise an interview (with London Ambulance Service staff and existing scheme members) and an individual Basic Life Support (BLS) assessment in which you will need to show proficiency in BLS and the use of a defibrillator. A pocket mask will be available. During this assessment there will be a competent bystander to assist with your BLS but they will need direction from you. Communication will be assessed.

What happens after the assessment centre?

If you pass both parts of the assessment centre, you will undertake an enhanced DBS check, Occupational Health screening and reference checks, all of which must be passed. Once this is done, you will be offered a number of course dates for your six full-day initial course. The course generally runs from Monday to Saturday, in the London region.

What if I've never used an AED (Automated External Defibrillator)?

This is an essential skill that you will need to be competent in to pass the course. We don't expect you to be an expert at the assessment centre but we do expect that you safely use a defibrillator as well as delivering high quality cardio pulmonary resuscitation (CPR). The initial training course is intensive and you must have a good grounding of first Aid and BLS.

Can I drive for the scheme?

If you are a blue light driver holding any of the below qualifications then you should be able to drive on the scheme, subject to driving licence checks and a successful check test with a London Ambulance Service driving assessor.

IHCD
FutureQuals Level 3 emergency response driving qualification with a car component
Police Response or higher

How do I book shifts?

We use an online system that enables us to communicate with each other and book shifts; you can either add a shift that suits you or you can join a person looking for a driver or attendant.

Do I always respond from the same place?

No, on completion of your course you are allocated to a 'base' station for admin purposes and you can book shifts and respond from any location where the scheme operates.

Is there any training after I qualify?

Yes – there are regular CPD evenings (approximately two hours each) over the course of the year and you need to attend a minimum number of mandatory sessions, in addition to maintaining your minimum commitment of 16 hours responding per month.

Are expenses covered?

We cover travel expenses and a meal allowance. Training, uniform and all clinical equipment required for duty are also provided.

What if I already have FPOS-I, ASFR or other qualifications?

People with non-LAS FPOSi, ASFR or any other qualification (including military medics) still need to complete the full training course.

If you have any questions not covered here please contact a member of the team: