The volunteer responders helping us during the coronavirus pandemic
During the coronavirus pandemic, volunteers – including our volunteer responders – have played a huge role in helping us give Londoners the care they need.
Who are our volunteer responders?
Our volunteer responders include Emergency Responders (ERs) and Community First Responders (CFRs).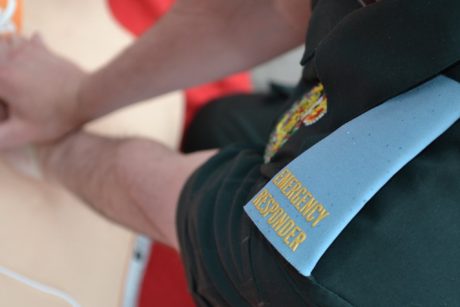 ERs are London Ambulance Service trained volunteers who respond to the most serious 999 calls in Service uniform and in our liveried vehicles, on blue lights and sirens.
CFRs are volunteers trained by St John Ambulance and LAS and are dispatched by our control rooms to respond from their home, work or elsewhere in the community to patients in their local area to give first aid and care prior to the arrival of LAS clinicians.
These volunteer responder schemes are supported by our registered Voluntary Responder Group charity. Find out more about this charity here.
Volunteer responders during the coronavirus
The ER scheme is made up of 150 volunteers, many of whom have been doing more shifts than ever before recently: volunteering their time to respond in pairs in response cars, but also – for the first time – responding alongside 'regular' clinicians in ambulances.
ERs gave more than 1,000 hours of their time to respond on the response cars in March and almost 1,300 hours in April. CFRs gave more than 700 volunteer hours in March and nearly 500 hours in April.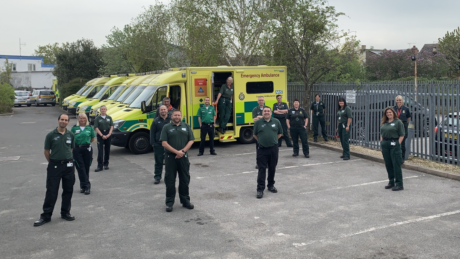 Around 30 CFRs have been volunteering their time supporting the delivery of swab tests for our staff and volunteers, and helping with other testing.
A similar number of CFRs were also upskilled by our trainers to respond alongside an LAS clinician in our ambulances. Some were also trained to provide support in our control rooms.
Antony Tiernan, Director of Communications and Engagement oversees volunteering at LAS. He said:
"I am immensely proud of the work our volunteers do to support our Service, London and Londoners and they have played a key role in response to the coronavirus pandemic.
"Volunteers' Week is a perfect opportunity to highlight the work they do and to publicly thank them for their ongoing commitment, professionalism and dedication."
Meet some volunteer responders involved in the coronavirus pandemic response
Fiona
Part-time PE teacher Fiona has been a CFR for four years. She got involved with the scheme as she'd witnessed incidents including cardiac arrests as a bystander and wanted to learn more medical skills and help people.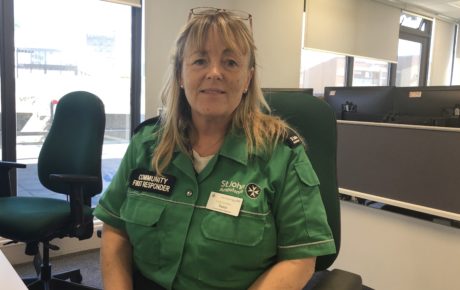 Usually, Fiona will do an eight hour shift once a week as a CFR in the Harrow area of north west London. This involves being "on-call" to be dispatched by LAS to medical emergencies nearby.
But during the coronavirus pandemic Fiona has been volunteering in the Service's headquarters near Waterloo as part of the team coordinating CFRs who are taking and collecting swab tests from staff and volunteers.
Of her (normal) role as a CFR, Fiona said:
"It's very rewarding: when we get to patients before a LAS resource, patients are often very relieved to see us and we can begin to get a medical history and observations started before other crews arrive.
"We also learn a lot from LAS crews on scene which helps us develop our knowledge and skills."
Of her role supporting the Service during the coronavirus pandemic, Fiona added:
"It has been challenging at times – and is ever-changing – but it has meant a lot being able to help during this significant challenge for the Service and us all."
Ben and Cornelius
Ben and Cornelius are two of our ERs who have been doing more hours than ever recently and responding together in one of our ER response cars.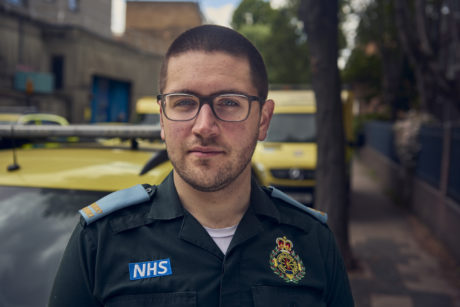 They have also responded on ambulances as part of the 'upskilling' of ERs to join regular clinicians on double-crewed ambulances.
Cornelius is a pilot and Ben is a professional musician who plays the French horn in orchestras.
As they're both not able to do their "day jobs" due to the impact of the virus on the arts –including on orchestras, and on the aviation industry, they've been responding as ERs almost full time.
Ben says "Working on the ambulances is a really good opportunity for us to learn much more from the full-time staff.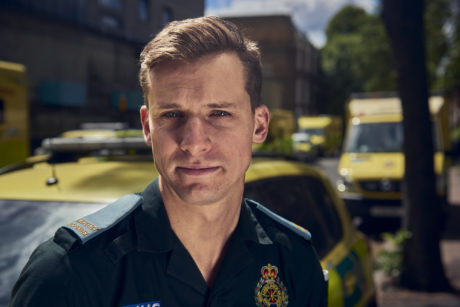 "COVID-19 has had such a big impact on the arts, so it's really nice to be able to use this time to give something back and to work for the Service"
Cornelius: "As someone who grew up in London, to be able to help out on the ground, treating people – sometimes when they're at their most vulnerable – and being able to just help them and offer that reassurance at their greatest time of need is so rewarding."
Mina
Mina is a Tax Partner working in a professional services firm and volunteers with us as ER. She joined the scheme three years ago – before joining she also volunteered with St John Ambulance, providing first aid cover at events such as concerts and football matches.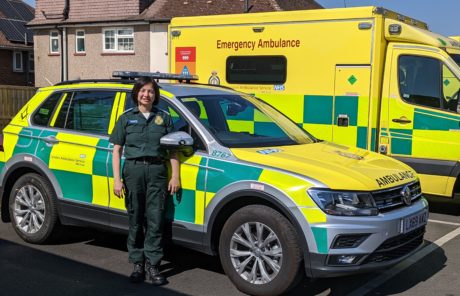 During the coronavirus outbreak Mina has done more than double the amount of shifts she'd do in a 'normal' month – and has also responded in an ambulance.
She says:
"My favourite things about being an ER are helping others and making a difference to the community. It's great to be part of a team of exceptional people. I've learned so much from both the volunteers and fulltime ambulance crews."
Jonathan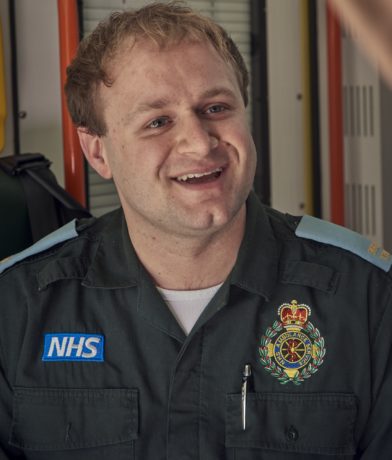 Jonathan joined the ER scheme in November 2018. Outside of LAS, he is a medical student at King's College London.
The highlight for Jonathan of being on the ER scheme has been being able to show just how much volunteers can help during difficult and challenging times, such as the coronavirus pandemic.
Jonathan is one of the ERs who has been carrying out shifts on ambulances. This was a "sharp learning curve" for Jonathan but for him the reward of working with new crewmates and the different interactions with patients was "fantastic".
Joyce
Joyce has been volunteering on the ER scheme for two years and is a fourth year medical student.
Of the scheme, Joyce says:
"I have thoroughly enjoyed my experience with the Service. Being an ER allows me to see and treat a wide range of patients and this experience has definitely shaped me into a better clinician.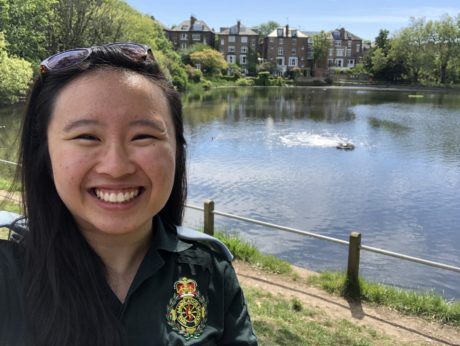 "My colleagues have also been incredibly supportive so far, especially when we attend incidents which can be emotionally challenging. I'm also privileged to have met colleagues who I now call friends."
Joyce has also responded in ambulances during the coronavirus pandemic and helped in our control rooms.
"We have been working alongside our colleagues on ambulances and in control rooms during the coronavirus pandemic and all of them have been happy to help.
"It's great learning from colleagues who are very experienced in their role. These additional opportunities have definitely given me a better insight into what other roles entail and how we all just want to help in this crisis."