A message from the Chief Executive – 14 September
It is with great sadness that we announce that Debbie Baldwin, a London Ambulance Service volunteer Emergency Responder, passed away on 9 September 2021.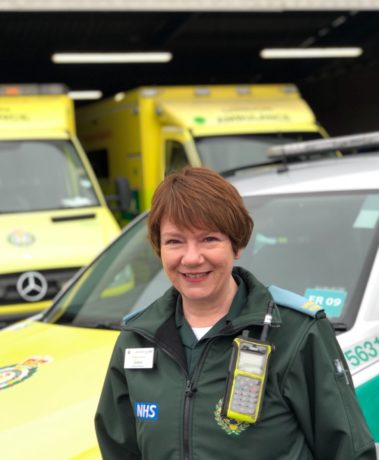 Debbie – a lawyer by profession – joined the Service's volunteer Emergency Responder (ER) scheme in March 2015. She was motivated to join by her deep sense of public duty and her passion for volunteering.
Before joining as an ER, Debbie had volunteered with St John Ambulance for many years.
Initially responding out of Croydon Ambulance Station, Debbie moved to Bromley Ambulance Station last year.
During the COVID-19 pandemic, Debbie was unable to undertake frontline ER shifts but was keen to assist her colleagues in some way.
She helped by supporting the coordination of interviews for Emergency Responder Team Leader positions and undertook a mental health awareness course.
In March 2020, to mark Ovarian Cancer Awareness Month, Debbie shared her story with her colleagues and with the public in a blog article. Here she spoke of the support she received following her diagnosis, from her colleagues and encouraged women to be aware of the symptoms of ovarian cancer and if they experience any of the symptoms to seek medical help from their doctor.
In this blog post, Debbie said:
"The great support from family, friends and colleagues, and a positive attitude, have helped me deal with many of the challenges on this journey.
"I hope that promoting greater awareness about ovarian cancer will help other women and ultimately, save more lives."
Debbie and her father also did a charity walk earlier this year to raise funds for Ovacome, the ovarian cancer charity. Debbie completed 26.2 miles even though she was in the middle of a trial drug treatment which had an impact on her health.
Debbie was married to Prav and was also close to her sister and her parents. My thoughts are with them and with Debbie's friends and colleagues at this sad time.
Daniel Elkeles, London Ambulance Service Chief Executive