Volunteer emergency responder living with ovarian cancer calls on women to be aware of the symptoms
A woman who volunteers her time responding to emergency calls for London Ambulance Service is sharing her story of ovarian cancer to encourage other women to recognise the symptoms.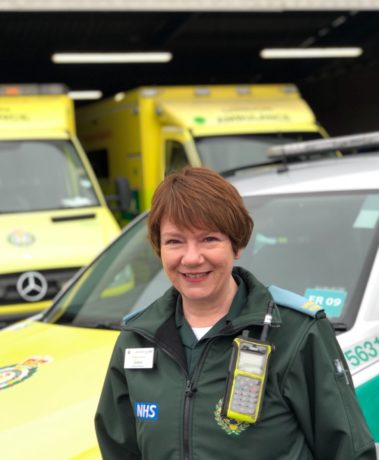 Debbie Baldwin was diagnosed with advanced stage 3 ovarian cancer in the summer of 2018.
The symptoms were so subtle in the early stages that she didn't notice them. After a sudden onset of severe abdominal pain, Debbie went to A&E.
Fortunately, she was diagnosed early enough that surgery, followed by chemotherapy and medication have helped to keep the cancer at bay.
Debbie has now returned to work and is also back responding as one of the Service's volunteer Emergency Responders.
Debbie said:
"The great support from family, friends and colleagues, and a positive attitude, have helped me deal with many of the challenges on this journey.
"One of the happiest milestones so far has been returning to my Emergency Responder role. Working alongside London Ambulance Service colleagues to help people who are ill or injured is very rewarding.
"I hope that promoting greater awareness about ovarian cancer will help other women and ultimately, save more lives."
March is Ovarian Cancer Awareness Month and Debbie is encouraging women to be aware of the symptoms of ovarian cancer and if they experience any of the symptoms to seek medical help from their doctor.
Ovarian cancer is one of the most common types of cancer in women and symptoms can be mistaken for other conditions, such as gastric and bowel problems.
Emergency Responders like Debbie are London Ambulance Service-trained volunteers who attend a range of emergency calls in Service uniform and in blue-light response cars.
Recognise the symptoms of ovarian cancer
The symptoms can be recognised using the acronym B.E.A.T
-B – Bloating: that doesn't come and go

-E – Eating difficulty and feeling full more quickly

-A – Abdominal and pelvic pain that is felt most days

-T – Toilet changes: in urination and bowel habits
Source:  Ovacome Charity:  https://www.ovacome.org.uk/
Find out more about ovarian cancer from the NHS website here.
Learn more about our Emergency Responder scheme here.