Our teams thank and pay tribute to their firefighter crewmates
Since April of last year, London Fire Brigade firefighters have been working with our Service to support our clinicians, including driving our ambulances and carrying out other supportive roles when crewing with medics.
This partnership began in the early weeks of the coronavirus pandemic as we put unprecedented numbers of ambulances on the road to respond to the huge increase in calls – and firefighters have remained, in fluctuating numbers, ever since.
We have a fantastic ongoing relationship with London Fire Brigade and regularly collaborate in a number of ways but their support during the Covid-19 pandemic has been invaluable, as the support of the Metropolitan Police through a similar partnership was in the first weeks of 2021.
As well as the clear benefits to the Service generally of having firefighters with us to help us crew even more vehicles to respond to patients, many of our ambulance crews have reported that their firefighter crewmates have helped them personally, and many of them wanted to publicly thank their firefighter crewmates.
Here are some examples:
Paramedic Obi and firefighter Uzair
Obi and Uzair have been crewed together for four months and as of April 2021 remain crewmates.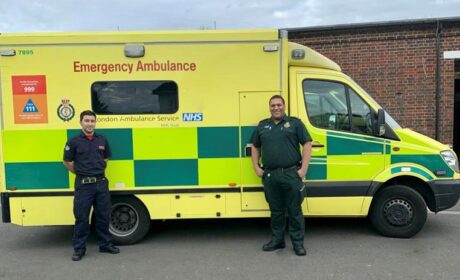 Obi: "As a firefighter, Uzair is brilliant at problem solving and is able to remain calm during incidents. He has been fantastic to be out of the road with and we have bonded.
"Whilst at some incidents he was experiencing certain situations for the first time, he has not hesitated in helping out and diving straight in. He has helped me to assess patients, reduce fractures, dealt with cardiac and respiratory arrests and his best skill is talking to patients and keeping them calm.
"It has been a pleasure working with Uzair and not only have we learned from each other but we've also made a friend for life."
Paramedic Caitlin and firefighter Olly
Caitlin and Olly responded together for around six months, having their first shift together in July 2020. They got on brilliantly and enjoyed working together.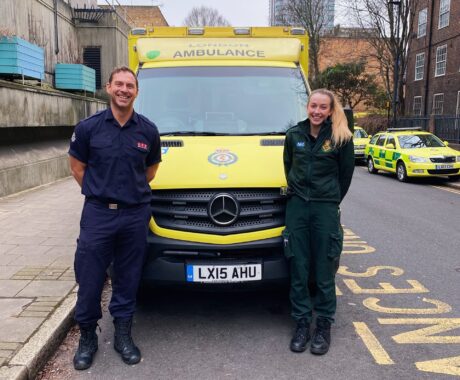 Caitlin said: "It has been a fantastic opportunity to work with Olly. Seeing him learn and adapt to how we examine and treat patients has made me very proud. He is an incredible ambassador for the LFB.
"As a firefighter, Olly has lots of experience being able to work in challenging situations, enabling us to work together efficiently whilst under pressure.
"Over the last few months we have formed a great friendship, and he has taught me so much. A true life-long friendship has been formed. We have been an incredible support for each other and I couldn't be more thankful to him for everything he has given to the LAS, to me, and to our patients."
Paramedic Matthew Gaston and firefighter Jason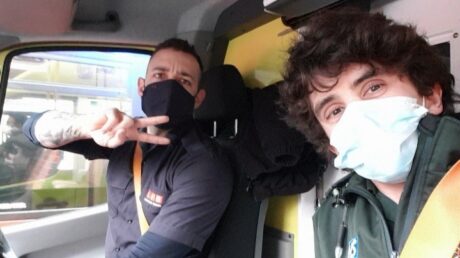 Paramedic Matthew Gaston is based at our ambulance station in Homerton, east London and he has crewed with firefighter Jason, who was part of the first group of firefighters to join us back in April 2020.
Matthew teamed up with Jason – who is based at Bethnal Green fire station – while he was, in his words, "as fresh faced and new as I was inexperienced".
He added:
"I owe my confidence and newly-developed skills to my time working with Jason. Our time together has made me a better, more confident paramedic and eased the difficulty of moving across the world away from close friends and family back home in Australia during a global pandemic.
"Over the last year we have bonded well and formed a great friendship both at work crewed up together and outside of work, spending many of our days off meeting for coffee and discussing the way of the world (within Covid-19 rules of course!)".
Paramedic Samantha Wood and firefighter Sheila
Croydon-based paramedic Samantha was crewed with firefighter Sheila for around five months.
About working with Sheila, she said:
"It was an absolute pleasure to work together. I was newly-qualified and it was a big step into the deep end for me.
"However, the partnership worked wonderfully with her bringing her wealth of experience from her role into ours."
Paramedic Matt Bayly and firefighter Dave
Westminster-based paramedic Matt says he's "loved every second" with firefighter colleague and now very good friend, Dave.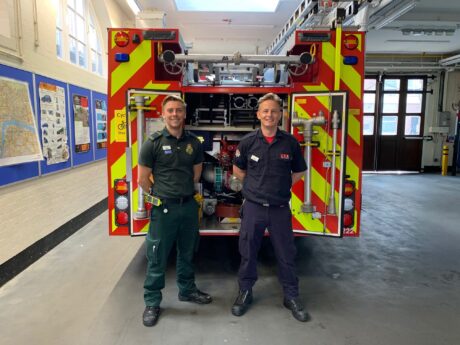 "Dave came with an enthusiastic attitude and desire to give his all for our patients. As a fire and rescue firefighter, Dave came with a natural ability to problem solve in tricky situations.
"This helped us work efficiently with difficult extrications, scene assessments and challenging patients. He was a priceless colleague and friend for me, a newly qualified paramedic, facing a stressful time being the clinical lead in unforeseen circumstances.
"I thank Dave for everything he gave the Service, me and most of all, our patients. He is a credit to London Fire Brigade, a life-long friend and a great guy."