Capital's blue-light services join together to care for Londoners
A new blue-light partnership between London Ambulance Service and the Metropolitan Police Service will see police officers across the capital driving ambulances and assisting medics to help boost the emergency response to the Covid-19 pandemic.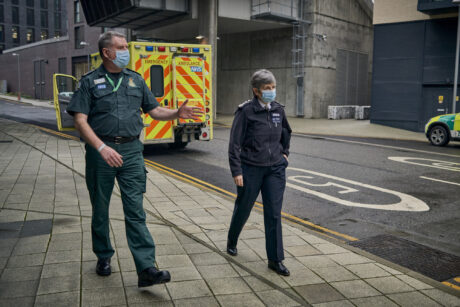 The Metropolitan Police Service has agreed to provide around 75 police officers to London Ambulance Service.
The new partnership will help us to continue to put more ambulances on the road responding to Londoners that need them.
A similar partnership with London Fire Brigade (LFB) announced in April last year saw 300 firefighters helping with a number of roles across the ambulance service including driving ambulances – support which is ongoing, with more firefighters receiving training this week.
The police officers, who begin training this week, are blue light driving trained, have basic first aid skills and know the streets of London well, making them the ideal partners to assist the ambulance service during this period of unprecedented demand.
Metropolitan Police Commissioner, Dame Cressida Dick visited the training on Wednesday (13 January) at Wembley Stadium connected by EE.
Jason Hallahan, Emergency Planning and Resilience Officer for London Ambulance Service, walked Ms Dick around the set up and showed her how officers are being trained on vehicle familiarisation, manual handling and ambulance equipment – before talking with our Chief Executive, Garrett Emmerson.
Mr Emmerson said:
"London Ambulance Service and the Metropolitan Police Service have worked hand in glove over many decades responding together to all of the most challenging incidents in the recent history of London.
"It makes perfect sense that in the face of sustained levels of unprecedented demand we are taking steps to help our staff and volunteers care for London by enlisting the help of our MPS colleagues.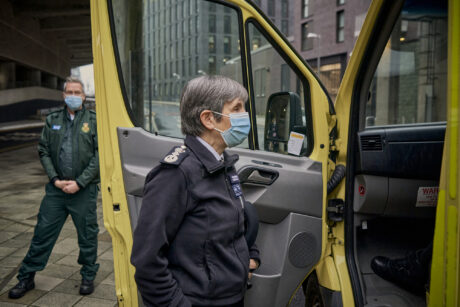 "Partnership working with our emergency services colleagues is an essential part of our response to the pandemic and will help us to reach more patients in need of our help during this difficult time. We are also training more London Fire Brigade firefighters, whose support since April 2020 has been invaluable."
Metropolitan Police Commissioner Cressida Dick said although only 75 drivers were required initially, hundreds of volunteers came forward.
"London Ambulance Service really are in quite severe difficulties with servicing all the calls that they have at the moment because of the tremendous pressures brought by the COVID virus," she said.
"They asked whether we might be able to assist – I had dozens of volunteers and we have 75 officers who are assisting the paramedics as they go about their daily business.
"They are skilled police drivers, they're good decision makers and I'm really pleased that we are able to help the LAS at this incredibly difficult time in this way."
This training – which includes familiarisation with ambulances and some of the equipment such as carry chairs and trolley lifts, is being given at Wembley Stadium, thanks to the ongoing support of the Football Association.
Mark Burrows, The FA's Chief Operating Officer, said:
"At this unprecedented time in which our emergency services are under such sustained pressure, we are privileged to be able to play a small part in supporting the London Ambulance Service, Metropolitan Police Service and London Fire Brigade in their efforts to care for people across the capital.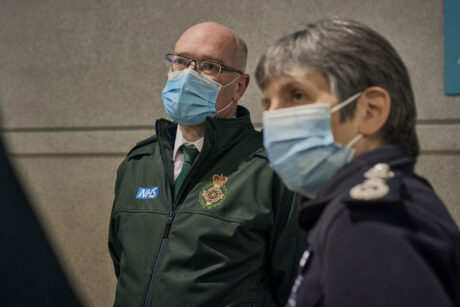 "After assisting with the delivery of a similar exercise back in April, we were ready and willing to offer our venue and welcome the LAS, MPS and LFB back to Wembley Stadium as they face this challenging phase of the pandemic.
"We continue to offer our full support to our blue-light services as they conduct this important training exercise and would like to reiterate our gratitude to our emergency services as they work to save lives both in London and across the country."
The police officers from the Met will be receiving the training this week alongside up to 80 LFB firefighters and around 40 staff from private ambulance providers.