We thank partners helping us get double the usual number of ambulances out responding to patients in the capital
London Ambulance Service today thanked the various partners, including The AA and Stagecoach, who are helping us prepare a significant number of additional ambulances to be available to respond to patients amid the coronavirus pandemic.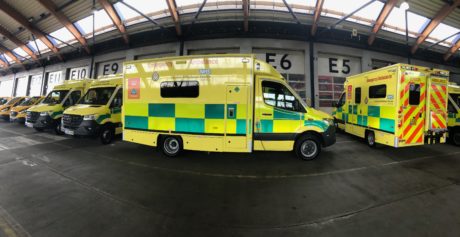 At the Stagecoach Bus Garage in east London a number of organisations are supporting the Service's fleet teams in preparation and installation of 62 brand new ambulances – which will take place over five days.
Before the Covid-19 outbreak, the Service would usually have capacity to make two new vehicles road-ready each week – well below the figure of 62.
As well as these brand new vehicles, we are kitting out and carrying out final preparations on 54 second-hand vehicles which we've brought in from a variety of sources across the country. We are also re-fitting 50 of our existing non-emergency response vehicles which are being prepared so they can be used for frontline emergency response to patients in need.
The hard work of our fleet and workshop teams, with the fantastic support of these businesses and organisations means we can increase our fleet of ambulance from around 470 – of which usually around 300-350 are available and road-worthy – to more than 600.
The fitting and works are taking place at the TfL bus garage in West Ham which is operated by Stagecoach. The AA are helping on the works – and this comes in the week the Service and AA announced a partnership which sees the company provide immediate technical support and 24-hour breakdown and incident management services.
Avian Mobile and Telent are supporting with different elements of the installation of communications equipment and Boleyn's are helping get the second-hand vehicles MOT tested and receive final preparations and road worthiness tests.
This week we've also announced a partnership with the London Fire Brigade to boost the Covid-19 emergency response which will see firefighters helping with a number of roles across the ambulance service.