Great-grandad recalls ambulance career as paramedics transport him back to the sixties
A 98-year-old man with dementia was able to recall events from his career working on London ambulances when two paramedics from the service visited his care home in a 1960s ambulance and wearing uniform dating back to that time.
Albert Gibbs, a Normandy veteran from the Second World War who worked on ambulances in London between 1965 and 1990, now lives in Essex and often refers back to his time as an ambulance worker, but memory loss means many important events from his career have been forgotten.
However, when London Ambulance Service paramedics Craig Henty and Terence Thomson visited him recently in an original 1967 Morris Wadhams ambulance and period uniforms, it took him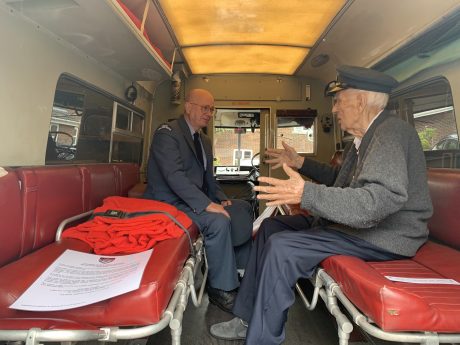 right back to his days as a medic.
He immediately said: "I wore the same uniform and the same hat.
Then, he added: "I recognise your badge. It's from the north-east sector, where I used to work. I was stationed at Ilford, but sometimes also worked in Romford."
Before visiting, Craig and Terence had researched material from Albert's time in the ambulance through the Service's Historic Collection and traced thank-you letters from patients Albert had cared for, as well as pictures of a work holiday he had organised.
Albert said: "I had a holiday club that people called 'Gibbs Tours'. I once arranged a weekend in Benidorm and got 43 people to go, including ambulance workers, nurses, doctors, and their families. It was a good weekend!"
Reminiscing about some important jobs he attended, he said: "I delivered five babies and saved a person who fell under a train.
"I had a good time and a lot of laughs at the Service, especially when I rang the ambulance bell on the Woolwich ferry. We weren't allowed to do that, but I did it once and then sped down the ferry. It got me into some troubles!"
Craig Henty, London Ambulance Service Paramedic and Head of Historic Collections, commented: "I sat with Albert in the back of the ambulance for a chat and it felt as if we had just finished a job together.
"His mannerism and familiarity with the vehicle are classic of someone who works in an ambulance. He even rested his feet on the rail in front of him and that's exactly what an ambulance crew would do.
"I was amazed to see that the experience brought him right back."
Head Nurse at Elizabeth House Care Home Tracy McGuinness explained that people with dementia can benefit from visual and sensory cues to stimulate their brain and trigger their memory.
She said: "It was emotional to see Albert recall his time as an ambulance worker.
"We encourage our patients to re-live important experiences from their lives as that keeps their brain engaged and can reduce their cognitive decline. We try to keep their mind ticking and give them purpose."
Albert Gibbs' daughter Elaine Dettmar said: "My dad served in the ambulance service for many years and that was a huge part of his life – it was moving to help him re-live it.
"As he talked and engaged with the pictures more memories were coming out."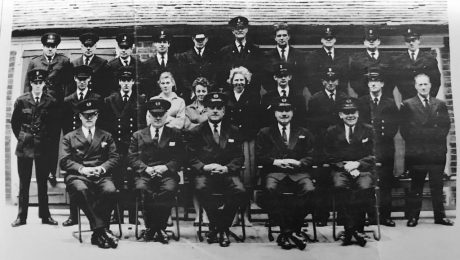 Throughout his 25-year ambulance career, Albert Gibbs saw the development of what grew to be known as 'London Ambulance Service', which today is the busiest emergency ambulance service in the world.
On the year he became a medic, in 1965, a London-wide service was formed in the capital after nine existing services merged together, comprising nearly 1,000 vehicles and 2,500 staff.
In 1974, when the National Health Service was reorganised, the Service was transferred from the control of local government to the South West Thames Regional Health Authority.
Service managers continued to report to South West Thames until 1 April 1996, when the organisation became an NHS trust. London Ambulance Service as we know it today officially came into being.
This year, the NHS celebrates 75 years since post-war reorganisation led to the National Health Service Act of 1948. As part of this, for the first time, there was a requirement for ambulances to be available for all those who needed them.
London Ambulance Service collects original items that trace the history of the Service in its Historic Collection. This includes horse carriages and blitz ambulances from the Second World War, as well as medical equipment, uniforms, and medals of historical significance.
You can find out more about London Ambulance Service historic collection here.
Help by keeping history alive by supporting our collection here.