Meet some of #TeamLAS working this Christmas – and how you can help them help you
London Ambulance Service staff and volunteers will be continuing to work around the clock this Christmas to care for Londoners who need us.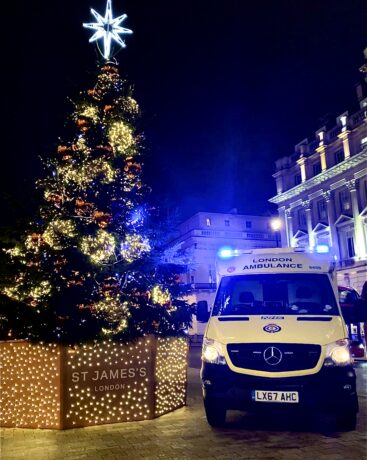 Nearly 2,000 people across the Service – including ambulance crews, 999 and 111 call handlers, and the many other teams and individuals that are vital to what we do – will be working on Christmas Day this year.
Many more will be on shift over the Christmas period.
Daniel Elkeles, Chief Executive of London Ambulance Service, said:
"Our staff and volunteers are there for Londoners who need us, 24 hours a day, seven days a week, 365 days a year.
"They are an absolute credit to London Ambulance Service and to our city, and I would like to say a big thank you to each and every one of them for everything they are doing, not just at Christmas but every other day of the year."
There are things that you can do to help our staff and volunteers who are working over Christmas.
For urgent medical help when it's not an emergency, please go to NHS111 online first. If your medical concern is urgent and you use the 111 service, you'll get the support you need.
You should also make sure you have all the medication you need over the Christmas period.
And if you are drinking alcohol please don't drink so much that you need our help, and be careful, responsible and sensible.
To find your nearest health services and opening times, visit: www.nhs.uk.
Here are just some of the Team LAS staff and volunteers who are working on Christmas Day this year: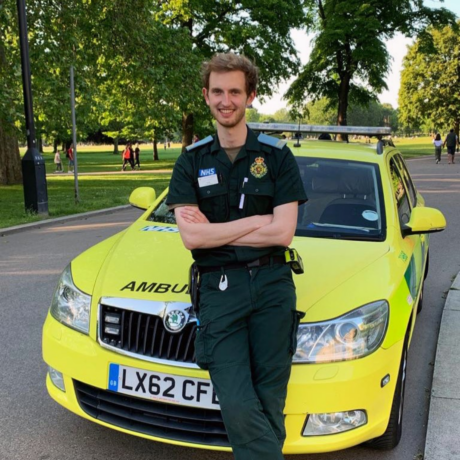 Saman, volunteer Emergency Responder
Saman is a medical student who has volunteered with London Ambulance Service for two years. He mainly works from Waterloo and Ilford ambulance stations – both in a car and on a ambulance.
He said: "I love the social side of the Emergency Responder (ER) scheme, working with close friends in the car as well as getting to know the local ambulance crews. I also enjoy thinking on my feet and not knowing what the day is going to bring, especially the most important decision of the day: where we're going for food!
"Most importantly, it's very rewarding to be able to help patients."
Saman worked a few shifts over Christmas and New Year's last year, and this year will be working throughout December and in-between Christmas and New Year.
He added: "Everyone is generally in good spirits and there's a lovely festive atmosphere among staff and volunteers, and it's nice to get around and see all the Christmas decorations over London.
"An increase in visitors coming to London, as well as shorter, colder days, also bring additional challenges and it's still just as rewarding to be able to help patients and those close to them.
"I'm looking forward to another year volunteering as an ER as the scheme continues to grow from strength to strength."
Ziana, 999 call handler
Ziana has worked at London Ambulance Service for three years, and is based in our Waterloo HQ 999 control room. This is not the first Christmas Day that she has worked.
When she has Christmas off, Ziana usually celebrates with her family and enjoys lots of food and games – as well as a few drinks.
While she won't be able to do that this year, she plans on popping over to see her family after work – although she won't be staying too late as she is working the whole Christmas weekend.
"I enjoy working with such an amazing group of staff, and I enjoy helping my patients," says Ziana.
Helen, paramedic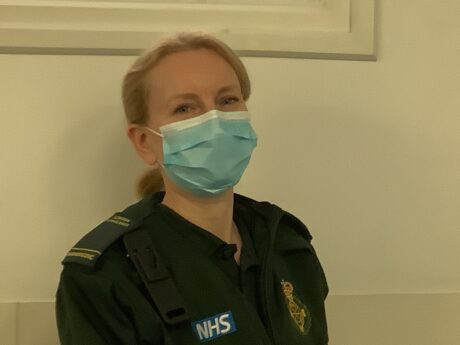 Helen is among the paramedics who will be working on the day. She is based in Edmonton, and has worked at London Ambulance Service for 11 years.
Every year, she alternates between working on Christmas Day and New Year's Day – so by now she is very used to being on shift over the festive period.
In the past, when she has the day off, she will spend it with her nine-year-old son, her parents and her sister.
The plan this year is to pop in to see her son at his dad's in Walthamstow after work. Then she'll visit her parents for a Christmas dinner, and join them in the evening for a film.
She said: "Christmas Day is always quite a nice shift. There are lots of snacks left out in mess rooms for us, so we don't need to bring in food. The roads are empty. It's a little quieter for calls. I spend the shift thinking about how nice the evening will be, so I'm always in a good mood."
Becca, NHS 111 Health Advisor
Becca is based in the South East London NHS 111 service in Croydon, which is run by London Ambulance Service. She has worked in this role for just over a year.
Becca's role as a Health Advisor is to assess a patient's clinical needs so she can give them the best care, guidance, and advice and – if necessary – ensure they get the help they need as quickly as possible.
While this will be her first Christmas shift at London Ambulance Service, Becca is well used to working over the festive period as she did so in a previous job in Spain.
She said: "This year I will be sending cards, small gifts and attempting to video call my loved ones as I will be working most of the festive season.
"In my job, I enjoy being able to help people, being there to listen when they are scared or worried and don't know where to turn."
Ollie, Fleet Multi-Skilled Technician
This will the fifth Christmas Day that Ollie has worked.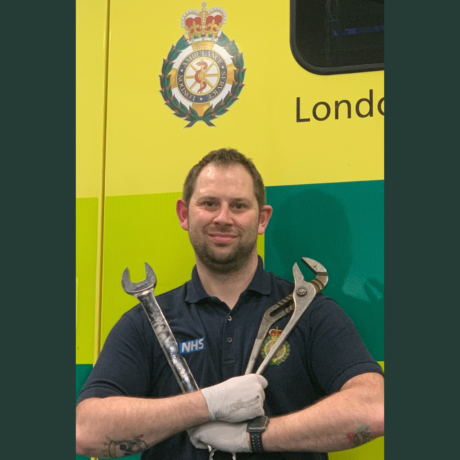 The Camden-based technician has been at London Ambulance Service for more than a decade. His job is to carry out maintenance and repairs to London Ambulance Service's 1,000-plus vehicles and vehicle-based equipment.
He says he enjoys his job because "I love knowing that every time I work on a vehicle and release it back to our crews, that vehicle could potentially help save a life."
When he isn't working over Christmas, Ollie often celebrates with his wife and son, visiting family for Christmas dinner. This year, however, he says he will be doing his best to fix the frontline vehicles – as well as keep crew morale up.
He added: "Please remember those of us who work behind the scenes. If it wasn't for the workshops and operations support, vehicle cleaning and preparation, administration, cleaners, logistics, IT, and so on, the Service would not work.
"London Ambulance Service is a machine, and each and every one of us play a vital role in keeping that machine going. I would like to say thank you, Merry Christmas to all, and please stay safe, however you are spending the Christmas period."
Thibault, ER Team Leader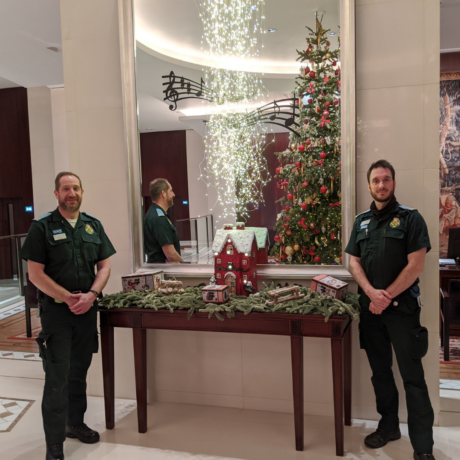 Thibault has volunteered with London Ambulance Service for four years as an emergency responder. Emergency Responders (ERs) are London Ambulance Service-trained volunteers who attend a range of emergency calls in Service uniform and in blue-light response cars.
Thibault – who works as a software engineering manager – is primarily based at Friern Barnet, but does work out of other stations, too – including Camden, Isleworth, and Waterloo.
He said: "I joined because I always liked helping others around me, and I thought being an ER would help me have a direct impact on people's lives.
"I knew I'd enjoy it, but I didn't expect how much I'd enjoy being able to help people when they are at their most vulnerable – it is a truly rewarding experience. And sometimes, we even get to be the difference between a life saved and a life lost."
Thibault will be working in the afternoon of Christmas Day and Boxing Day this year – as well overnight on New Year's Eve.
He usually goes back to France to meet with his family but has chosen to stay in the UK this year.
Thibault added: "This is my second year volunteering over Christmas. It is a special time for many people, and I particularly connect to its spirit of giving and sharing.
"While most people enjoy some great family time, some may not be as lucky. By volunteering over Christmas, I am giving and sharing my personal time to help the unlucky few. I can't think of anything more in the spirit of Christmas than that!"
Ellie , Emergency Ambulance Crew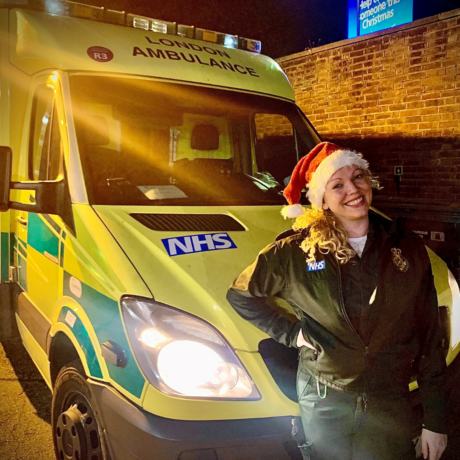 Ellie works as an Emergency Ambulance Crew and is based in Putney. She is also a student paramedic on an apprenticeship course, so juggles full-time work with full-time university studies.
Ellie has worked at London Ambulance Service for nearly six years, and has worked over Christmas every year since joining the Service. This year she will be working on Christmas Eve, Christmas Day, New Year's Eve, and New Year's Day.
She said: "When I'm not working I would normally be with my family, especially as my nephew's birthday is on Boxing Day. It's lovely to be able to celebrate with everyone.
"Thank goodness for FaceTime, meaning I can still say hello to my family when I'm working. I will often be armed with a cheese board and a bottle of non-alcoholic bubbly whilst on shift, just to have a little bit of festive cheer whilst at work!"
Speaking about her job, she added: "I enjoy every day being different and working with some of my closest friends. Being able to go home at the end of the day and feeling like you've helped someone is always a good feeling."