Volunteers' Week – meet our volunteer responders
Volunteers play a vital role in our Service – and their contribution has never been as valuable as it has been in the past year as we faced the challenge of responding to the COVID-19 pandemic.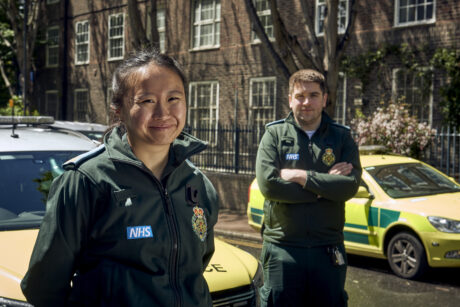 On Volunteers' Week we are highlighting the contribution of our volunteer responders to Team LAS and for what they do for our Service and for Londoners when volunteering their time.
About our volunteer responders
Our volunteer responders include Emergency Responders (ERs) and Community First Responders (CFRs).
ERs are London Ambulance Service trained volunteers who respond to 999 calls in Service uniform and in our liveried vehicles, on blue lights and sirens.
In the first quarter of 2021, ERs gave 5,630 hours of their time to responding to patients. They responded 1,796 times and were first on scene on 1,119 occasions.
CFRs are volunteers trained by St John Ambulance and LAS and are dispatched by our control rooms to respond from their home, work or elsewhere in the community to patients in their local area to give first aid and care prior to the arrival of LAS clinicians.
These volunteer responder schemes are supported by our Voluntary Responder Group registered charity. Find out more about this charity here.
Our volunteer responders and the coronavirus pandemic
During the coronavirus pandemic the role of our volunteer responders has been expanded to help us navigate unprecedented challenges in both our response to patients and our call handling capacity – and other areas such as the need to regularly test our frontline colleagues.
CFRs played a central role in supporting our staff 'swab' testing – coordinating phone booking lines and delivering tests to staff and volunteers who were isolating and couldn't travel to pick up a test kit.
During the first peak of the pandemic in spring 2020 the Service was seeing extremely high demand and an increasing number of frontline staff off work, either through sickness or isolating.
In the past year our Emergency Responders gave more of their time than ever before – volunteering almost 30,000 hours and responding to nearly 10,000 incidents.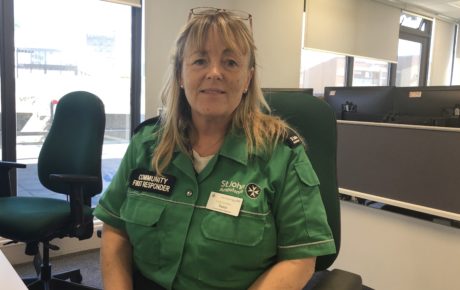 Volunteers also supported colleagues in our Emergency Operations centres at a time when we were receiving more 999 and 111 calls than ever before.
This included ringing back patients whose condition meant they did not require an immediate emergency response, giving callers advice on performing CPR  and carrying out other general tasks to support our call takers and dispatchers.
Faced with the need to respond to an unprecedented volume of emergencies, we provided additional training to our ERs and CFRs so that they could work on double-crewed ambulances under the supervision of an experienced clinician.
Some of our ERs with blue light training also began to drive our ambulances so we could put more vehicles on the road.
This proved to be successful, and these experiences are helping our planning in terms of reacting to and responding to any future peaks in demand. We are looking to keep our volunteer responders regularly on our double-crewed ambulances – so they can keep their skills refreshed and up-to-date.
This means our volunteer responders will be ready to again step in and crew ambulances if required to help Londoners.
Meet some of our volunteer responders
Jai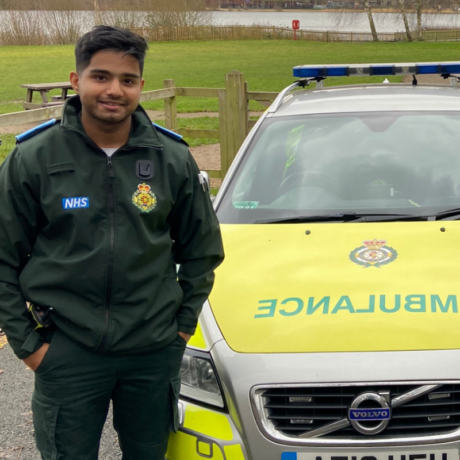 Jai, a medical student, has been an Emergency Responder since September 2019.
Jai has always had a particular interest in emergency medicine and has been very keen to be out in the community, providing care to those who need it. So, for him, joining the scheme seemed like a no-brainer!
"I feel incredibly privileged to be able to provide care and support – be it emotional or physical – to the people of London."
Ian
Ian runs his own software company and joined the scheme in 2013.
"Being an Emergency Responder and the things we see and do is dramatically different from the day job but extremely rewarding and great fun.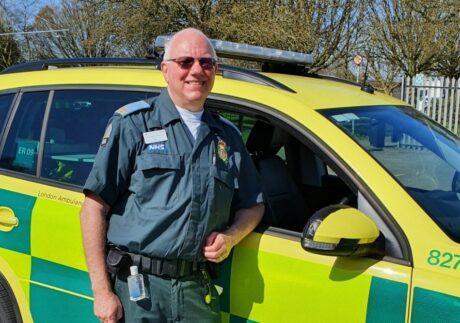 "In fact, the diversity of the ER volunteers is one of the scheme's greatest strengths, with each ER bringing with them different experiences, backgrounds and life skills.
"The one thing that, without exception, all the volunteers have in common is that we simply love what we do.
"The Emergency Responders scheme is incredible and as volunteers, we are trained by regular London Ambulance Service staff and have an excellent working relationship with them whilst on shift.
"As Emergency Responders we do make a difference and we do save lives."
Lillie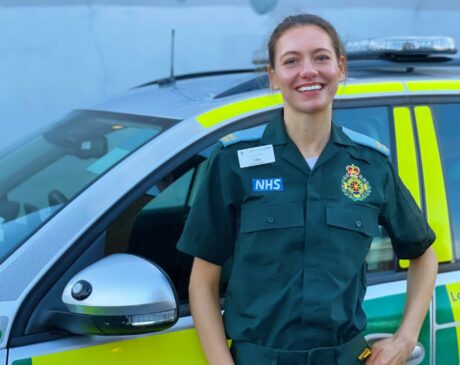 Lillie joined the Emergency Responder scheme three years ago and has been a Team Leader for two years. Her 'day job' is with NHS England, working on urgent and emergency care transformation and performance improvement – and she sees being an ER as a great way of keeping the patient and clinician experience at the front of her mind.
Lillie began her volunteering journey with St John Ambulance as a teenager. Through this and volunteering at events like Notting Hill Carnival and New Year's Eve she met London Ambulance Service staff and found them to be very friendly, knowledgeable – with interesting stories about their work.
This – and shadowing a London's Air Ambulance trauma car shift – inspired her to apply to become an ER.
"I like the feeling you get from helping people and supporting the NHS. I also enjoy the social aspect, meeting all sorts of people in their homes and being able to help ease their pain or even just have a chat about how they're feeling.
"There's also a strong sense of community across ER volunteers; we all have different backgrounds but a very common sense of purpose, and you get to know people very well after 12 hours in a car together!
"If you ever see me or any of the fellow ERs out and about, then do come and say hello, we always appreciate it!"
Saman
Saman has been an Emergency Responder since September 2019. In that time, he has logged just over 1,500 hours on shift with Team LAS, which includes 350 hours on dual crewed ambulances (DCAs) during the height of the COVID-19 pandemic.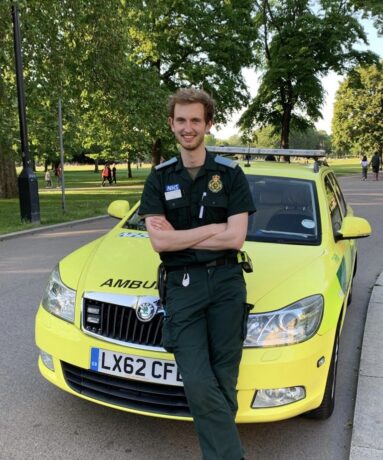 Saman, a medical student in his fourth year of university, says being a student affords him a little more flexibility – and he says the scheme and his studies complement one another.
"I wanted to be an ER from the positive experiences I had heard about the scheme from others. I am interested in Emergency Medicine and prehospital care, and this scheme gives me an opportunity to develop my skills whilst helping patients and giving back to the community.
"Volunteering doesn't feel like 'work' – it's more like a day out with a friend, and so I love spending as much free time as I can responding. It's great to do something that you enjoy which also benefits others and this makes it very easy for us all to find time for the scheme.
"I've made lots of friends through the ER scheme and working a shift together is always enjoyable.
"I also love getting to know the regular LAS crews – from Ilford to Isleworth, and Barnet to Bromley, we have cars based across London and it's great to work with such a range of crews and get to know them. It's also great to explore London, as well as treat patients of all ages and backgrounds. There's always something you can do to help someone, whether they need a lifesaving intervention or just a cup of tea and a chat."
Tyler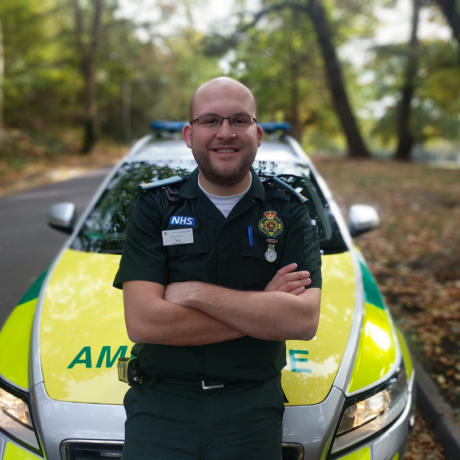 Tyler works as a  Project Manager on large infrastructure projects and  has been an ER for seven years. He is also the ER scheme's Deputy Fleet Manager, making sure our vehicles are adequately serviced and that faults are rectified as quickly as possible so that the time they're 'off the road' is minimalised. He is also leading on a project to provide the scheme with a new fleet for vehicles in the future.
"Volunteering has always been something I enjoy doing. I am involved in a few charities and giving my time back to my community is really important and gives me a great sense of positive wellbeing. My base station is Hillingdon, in North West London. This allows me to provide cover in the area to which I live, enabling me to give back to my community.
"To someone thinking of joining I'd say make sure you are prepared for what you may be facing. Volunteering is great for you, however remembering that we are here for patients."
Joyce and Ben