Mayor thanks London Ambulance Service and partners working together on Covid-19 front line this winter
The Mayor of London, Sadiq Khan, today thanked teams supporting London Ambulance Service's work caring for the capital during the latest wave of the coronavirus pandemic.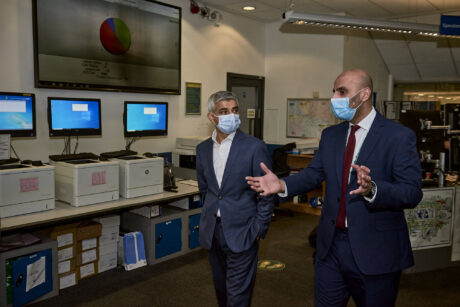 In a socially-distanced visit to our Waterloo headquarters, Mr Khan met call handlers, dispatchers and clinicians from the 999 control room, ambulance crews, fleet workshop teams and blue-light partners from the Metropolitan Police and London Fire Brigade to express his appreciation to those working at this time of unprecedented demand for our services.
The Mayor of London, Sadiq Khan, said:
"On behalf of all Londoners, I would like to thank our emergency services for stepping up during this time of crisis to keep us safe. As a city, we are so grateful for everything they do.
"Throughout the pandemic, our heroic emergency service workers have gone above and beyond – they are the very best of us. There is no better example of that than our hardworking and dedicated firefighters and police officers volunteering to support our ambulance service at what is one of the busiest periods in its history.
"Londoners must continue to make huge sacrifices to get the spread of the virus under control. We must all stay at home, unless it is absolutely necessary to leave, in order to protect ourselves, our family, friends, other communities and our NHS."
December was our busiest ever month, surpassing even the numbers of patients seen during the first wave of Covid-19 in March 2020. Over the New Year period, our control room teams saw record volumes of 999 calls with up to 8,500 a day compared with around 5,500 on a typically 'busy' day and we received double the number of 111 calls normally seen at this time of year.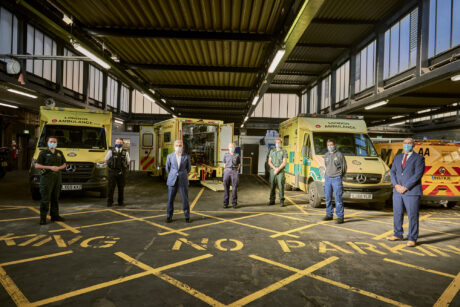 Rostering on extra staff and volunteers, we also renewed a partnership with London Fire Brigade which saw firefighters driving ambulances.  A similar partnership with the Metropolitan Police started last week with training sessions held at Wembley Stadium.
The Mayor began his tour of the ambulance headquarters in the workshop area where he met some of the team maintaining our fleet and helping us keep ambulances on the road. He was introduced to a firefighter and police officer, from among 200 people who were trained to drive ambulances and help medics. He also heard the experience of two paramedics who described working at a time that has seen our crews caring for more patients each day than at any time in our history.
Mr Khan then headed to a control room to speak to 999 call handlers, dispatchers and clinical staff who must prioritise resources and manage the care of patients waiting for an ambulance at peak times.
Khadir Meer, London Ambulance Chief Operating Officer, said: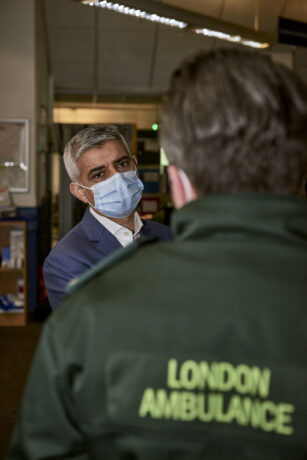 "I am immensely proud of everyone working at London Ambulance Service over the past year. What they have achieved during one of the most challenging periods we have ever faced, has been incredible.
"Despite their professionalism, this sustained pressure does take a toll and we are listening to staff to ensure we try to do all we can in responding to these stresses, especially support for mental and physical wellbeing at this challenging time.
"We are very grateful to all our partners – including the Metropolitan Police and London Fire Brigade – who have stepped up to help us as London once again endures some of its darkest days.
"I would also like to thank the public for playing their part. They can continue to help us by making sure they follow the rules to stop the virus spreading and by only calling 999 in a life-threatening emergency."