London Ambulance Service nominated as Trust of the Year
London Ambulance Service has been shortlisted as NHS Trust of the Year in prestigious health awards.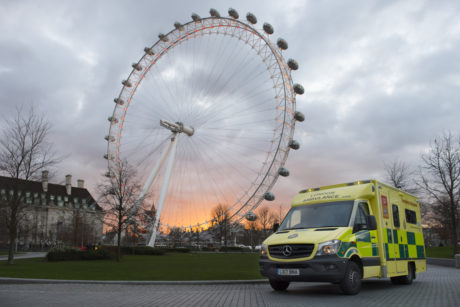 We are the only ambulance trust in the country to be nominated in this category of the Health Service Journal awards – despite more entries being submitted than ever before.
Garrett Emmerson, Chief Executive of London Ambulance Service, said: "This is a fantastic achievement which recognises the outstanding care we provide for our patients.
"It also acknowledges our vision to be a world-class ambulance service for a world-class city. Our strategy transforms the way we provide urgent and emergency care; and reduces pressures on hospitals and the NHS as a whole."
The Service, which is dealing with an increasing number of 999 calls and incidents, is aiming to dramatically cut the number of people it takes to A&E.
Anyone needing life-saving treatment will get an ambulance as a priority.
Meanwhile patients who are not critically ill may get the advice they need over the phone or may be seen and treated by an advanced paramedic – reducing unnecessary trips to hospital and often allowing people to stay at home or be referred to a local service.
London Ambulance Service has embraced digital technology, with staff using iPads so they can access patient records and hold video consultations with colleagues.
The nomination comes just months after the Care Quality Commission (CQC) rated the service 'outstanding' for patient care and 'good' overall.
The inspectors acknowledged the pressures the London Ambulance Service was facing – including dealing with terror attacks in the capital, noting crews and call takers had responded with professionalism and courage.
Mr Emmerson added: "I am proud of each and every one who works at London Ambulance Service – those on the frontline and those who work behind the scenes – to ensure Londoners receive the very best care possible."
London Ambulance Service has also been nominated – alongside London's Air Ambulance and Barts Health Trust – for the Improvement in Emergency and Urgent Care award. This award recognises the work of the Physician Response Unit which aims to 'take the emergency department to the patient.'