Innovative healthcare service is transforming emergency care in the community
Patients are getting specialist emergency treatment quickly and avoiding trips to hospital thanks to an innovative service launched in East London.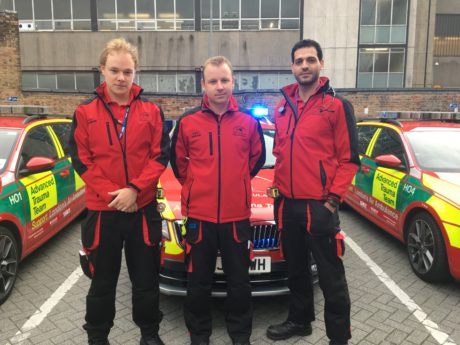 A review of the first 111 days of a unique collaboration between London's Air Ambulance, Barts Health NHS Trust and London Ambulance Service's remodelled Physician Response Unit (PRU) has revealed that emergency care is being transformed for patients in East London.
By taking the emergency department on the road and to the patient, 67% of patients seen have been treated and discharged at home, allowing the patient to avoid hospital and began their recovery immediately in the community.
Staffed with a senior emergency doctor and ambulance crew member in the car, the clinical experience of the medics enables the PRU team to treat a wider range of illnesses and injuries at scene compared to ambulance crews which take many emergency patients to hospital.
Of 652 patients treated by the PRU during its first 111 days of extended service 449 patients were treated in the community. Of these 312 would otherwise have been taken to the emergency department at hospital.
The PRU carries advanced medication, equipment and treatments usually only found in hospital such as instant result blood tests, urine tests and sutures to stitch serious wounds. This means the PRU can treat patients where they are, avoiding a trip to East London's hospitals.
Patients have been overwhelmingly positive about being able to receive a specialist medical consultation in their own home, avoiding having to go to hospital.
Alongside increased patient satisfaction, a better experience for patients and easing pressure on busy emergency departments, the service review has also identified significant savings for health services; £410,938 was saved in the first 111 days.
The PRU is run as a partnership between London's Air Ambulance charity, London Ambulance Service and Barts Health NHS Trust. London's Air Ambulance provides the cars and some of the equipment. Barts Health NHS Trust provides the clinical governance, training, rest of the equipment and the senior doctor who works half the time in the Emergency Department of The Royal London Hospital and half the time with the PRU. London Ambulance Service provides the emergency ambulance crew and task the service from the 999 control centre in Bow.
Consultant in Emergency Medicine at Barts Health NHS Trust & Clinical Lead for the Physician Response Unit Dr Tony Joy said;
"The data has confirmed what we hoped would happen when we gave the PRU the opportunity to operate for longer hours with closer working between all aspects of emergency healthcare provision. The first 111 days have brought tangible benefits to patients, who have been overwhelmingly positive in their feedback. It has also had real impact on local health services, with estimated savings of £410,938. We are turning emergency care on its head so that emergency patients are seen in the community by senior clinicians, enabling early treatment and access to alternative pathways without the need to go to hospital.

"Our next priorities are to increase further the number of patients seen daily and implement a targeted dispatch for the patients at high risk of admission. My hope is that other areas in the UK will see how fantastic the PRU is, and look to replicate this innovative model to help even more patients receive care within their home or community, improving their experience at the same time."
Malik Ramadhan, Divisional Director of Emergency Care and Medicine at Barts Health NHS Trust, said:
"The PRU has made a real difference in ensuring that patients receive the most appropriate care, meaning that only those who need to be in the Emergency Department are taken to hospital. It is vital that we look at innovative ways of caring for the ever increasing number of emergency patients coming through the doors, and effective use of the Emergency Department is important in enabling the rest of the hospital to flow efficiently. It's also fantastic that patients have responded so well to the service."
London Ambulance Service Medical Director Dr Fenella Wrigley said:
"This service ensures unwell patients get the very best care from an emergency ambulance crew and doctor. By taking the clinical expertise of the emergency department into a person's home, we can save a patient an unnecessary hospital visit where their condition can be safely managed elsewhere. It also means more ambulances are available to respond to our sickest emergency patients."