Wreaths laid as London Ambulance Service pays respect at Remembrance Day ceremony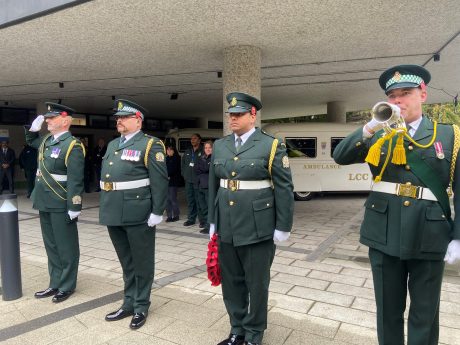 Staff at London Ambulance Service gathered on Friday (10 November) to commemorate those who lost their lives in military conflict and recognise the crucial role the armed forces play in helping the Service provide the very best care for Londoners.
Colleagues joined a special ceremony led by the ceremonial unit and the executive team at the Service's memorial garden at its Waterloo headquarters, which provides a space to remember those we have lost.
Director of Ambulance Operations Darren Farmer laid a wreath and guided a two-minute silence with members of the LAS ceremonial unit, which began with the bugle call of the Last Post in remembrance of our dedicated veterans past and present.
Darren said: "As an organisation with a large armed forces community, we're proud to support Remembrance Day as the nation unites to pay respects to the selfless service of those we've lost in military conflict and those who continue to serve in the military.
"Today we honour LAS staff members who are serving or are reservist members of the armed forces. To this day they continue their public service in their unwavering commitment to Londoners in their time of greatest need.
"Remembrance Day is an opportunity for all of us at LAS to not only remember and pay respects to all who gave their lives during the first World War and the armed forces who have lost their lives during service to our country, but also to reflect on the help and support that the military has given us during our response to the pandemic and other major incidents."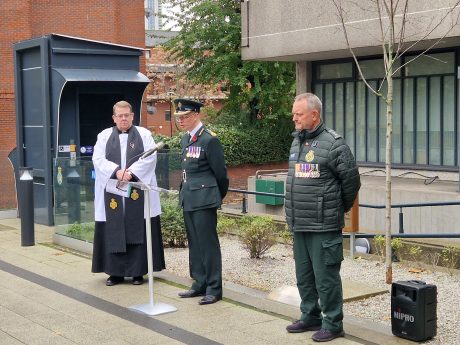 A chaplain, Father Chris Morgan from the Royal British Legion, also provided a poignant prayer for the service.
Last year London Ambulance Service was named as a Veteran Aware Trust in recognition of its commitment to improving NHS care for veterans, reservists, members of the armed forces and their families.
The accreditation of 'Veteran Aware' status makes LAS an exemplar of the best care for veterans and recognises the progress made to ensure that members of the armed forces community do not face disadvantage when accessing NHS services.
Working for the LAS is a rewarding experience and there is a range of exciting vacancies available at the Service.
Whatever your role you'll be helping people who need us the most. Find out more about the opportunities available at LAS for you to develop your skills and progress your career.