London Ambulance Service scoops Mayor award for second year running
A trail-blazing apprenticeship scheme that allows people with no clinical skills to get the medical training and experience they need to become qualified paramedics has won a prestigious award from the Mayor of London.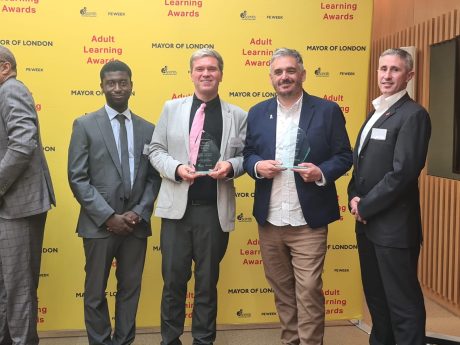 It is the second year running that London Ambulance Service scoops the accolade for this pioneering programme.
At the 2023 Adult Learning Awards held at City Hall on last Thursday (2 November), Sadiq Khan named London Ambulance Service 'Apprenticeship Employer of the Year'. The Mayor praised the Trust's for its excellent efforts in helping Londoners get into high-quality apprenticeships and supporting them through their professional and academic journeys.
Darren Avery, Strategic Workforce Development Manager at London Ambulance Service, said: "We are so proud to be named Apprenticeship Employer of the Year for the second successive year, against such stiff competition!
"This new route into paramedicine has been game changing. Since launching in 2018, we have trained over 1000 people with no prior medical skills.
"This ground breaking scheme has allowed us to bolster our workforce while opening our doors to competitive candidates who can earn while they learn."
The Frontline Ambulance Service apprenticeship at London Ambulance Service is a route to becoming a paramedic without any prior clinical qualifications. After two years, frontline workers can move onto a degree without pausing their careers.
The degree, which is fully-funded for the students and started in 2021, aims to making becoming a paramedic more accessible and allows clinicians who are already on the frontline to continue to work while they earn their degree.
Lee Knowles, 50, from East London, was a driving instructor until the age of 46. He started working on ambulances four years ago and is one of the front-line workers who benefitted from the programme.
He said: "I got my paramedic registration as I turned 50. At my age, to be given the opportunity to go back to university, debt-free, was amazing. It has opened many doors for me.
"I left school at 16, with good enough GCSEs. But 30 years ago, I would have never thought I would have joined an ambulance service and even possibly become a qualified paramedic."
In July, London Ambulance Service celebrated the first cohort to graduate from the new degree in paramedicine.
A group of 45 students were the first to graduate from the University of Cumbria's Paramedicine Course.
For more information on the different apprenticeship opportunities visit a dedicated page about apprenticeship opportunities on our website.