MPs call on Londoners to learn how to save a life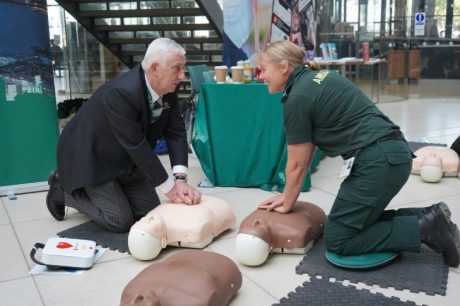 MPs have urged Londoners to sign up to learn life-saving skills after receiving training in Parliament from London Ambulance Service experts.
At an event in Portcullis House recently (Wednesday 25 October), frontline teams from London Ambulance Service taught politicians and staff from across the Parliamentary estate how to perform chest compressions and use a defibrillator when someone suffers a cardiac arrest.
30 MPs attended the session including Sir Lindsay Hoyle, Speaker of the House of Commons, who urged everyone to learn these vital skills to help save someone's life should an emergency occur.
Sir Lindsay Hoyle, Speaker of the House of Commons, said:
"Currently, fewer than one in 10 people survive cardiac arrest – so anything we can do that will give a cardiac arrest victim a fighting chance of survival is critical.

"That is why I would like to see members of the public and everyone in the parliamentary community learning how to perform CPR and use defibrillators – because you never know when those skills might be needed.

"With 17,000 passholders on the Parliamentary estate, it is essential we have people who can swing into action if the worst happens – and I am so grateful to London Ambulance Service for providing the training."
London Ambulance Service's London Lifesavers campaign aims to give people the knowledge and confidence to act quickly if someone suffers a cardiac arrest.
Early chest compressions and the use of a defibrillator can more than double someone's chances of survival from a cardiac arrest.
Research shows that 76% of out-of-hospital cardiac arrests happen in the home, meaning that learning these skills could help people save the life of a loved one.
Sam Palfreyman-Jones, Head of First Responders at London Ambulance Service, said:
"I'm pleased so many Members of Parliament took the opportunity to learn lifesaving skills from our experts, ensuring they have the skills needed to help when it truly matters.

"By working together with MPs and the communities they serve, we can expand our network of London Lifesavers, making London a safer place to live, work and enjoy."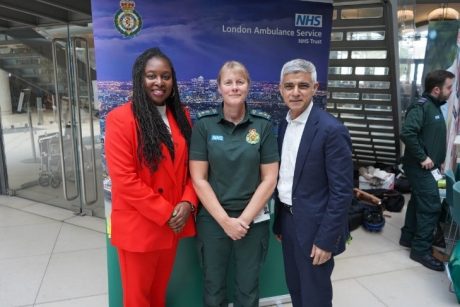 The London Lifesavers programme this month expanded to schools in London, with thousands of school children now set to be taught how to save a life by London Ambulance Service paramedics. The free schools programme for all Year 8 students in the capital will start in boroughs where data suggests its impact would be greatest.
More than 200 schoolchildren were taught how to perform chest compressions and use a defibrillator at City Hall on the first day of the programme. London Ambulance Service aims to lead training at two schools a week and teach 80,000 children in every borough over the course of the campaign.
The London Lifesavers team also train members of the public at pop-up events across London and offer training to businesses, charities and community organisations.
You can learn how to sign up to become a London Lifesaver and support the campaign here. If you would like to donate to this cause, or take on a fundraising challenge of your own, visit: https://www.londonambulance.nhs.uk/getting-involved/support-the-london-ambulance-charity/.