London Ambulance Service staff and volunteers honoured in awards ceremony
Staff and volunteers at London Ambulance Service's annual awards ceremony have been celebrated for the care they provide Londoners, including a paramedic who demonstrated immense courage when he responded to a patient whose car had crashed into a gas main.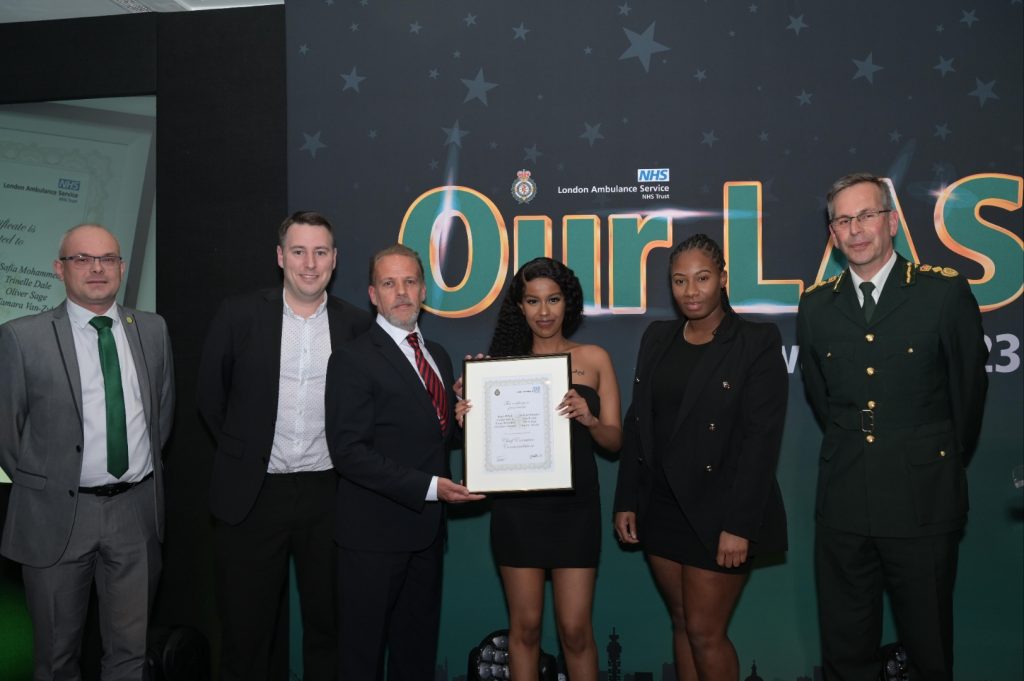 Other winners included our public education team for teaching 20,000 sessions to London communities about life-saving skills, our cleaning team for being an integral part of the organisation, and our sustainability staff for driving forward the Service's ambitious green plan.
The flagship 'Our LAS Awards' celebrates the contribution that staff and volunteers make to patient care across London – whether that is packing medicines, preparing vehicles, cleaning premises, maintaining our IT infrastructure or responding to our patients over the phone, at home or at the roadside.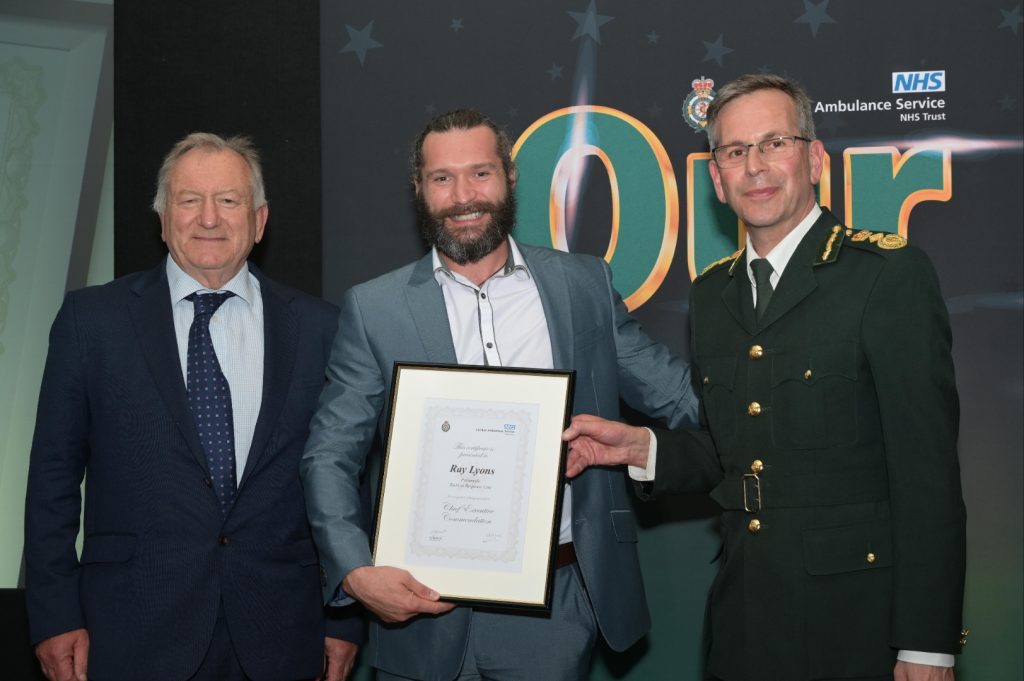 London Ambulance Service Chief Executive Daniel Elkeles said:
"Our staff and volunteers always work incredibly hard with the common goal of improving patient care while making sure the Service continues to be a great place to work.
"I am immensely proud to be part of this organisation, and one that, as we have witnessed at this awards, has diverse, wide-ranging skills and talent with the utmost focus on delivering the best urgent and emergency care we can. It has been an incredible year and so much has been achieved.
"I'd like to congratulate everyone who has won or been nominated for one of these awards."
More than 200 nominations were made by LAS staff for their colleagues for 'Our LAS Awards', and judged by the leadership team in partnership with our Patients and Public Council.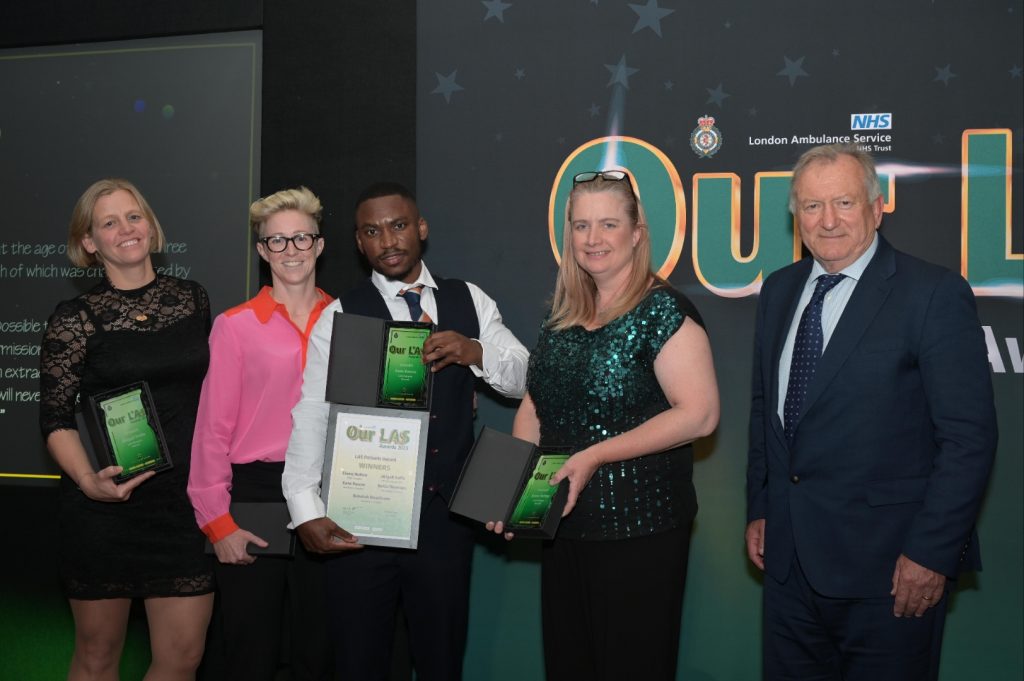 The winners
Winner of the Inclusive Leadership Award was Carolyn Slater, Performance Manager, Make Ready (Quality and Assurance), for living the Trust's values, delivering excellence, and always being professional, going above and beyond to support her team and colleagues.
The Culture Award for an individual went to Andy Forrester, Workshop manager at West Ham. The award was for working phenomenally hard with a smile on his face and for being an unsung hero of the service.
The Cleaning Team – comprised of the premises cleaners and project team – scooped the team Culture Award for work establishing links between cleaners and the staff at their base, helping us to providing our service to London.
Top prize in the Excellence in Clinical Care category went to Chelsea Thompson, Emergency Call Handler at Newham, for her decision to start the CPR process after being on a call with the granddaughter of an unresponsive grandfather.
Picking up the Action on Health Inequality Award was Claire Kirby, Assistant Ambulance Practitioner at Oval, for being a strong advocate for those with disabilities, taking the time to educate staff members at the station and be an advocate for patients in hospital.
For the individual Partnership Working Award Alex Boda, Sector Senior Clinical Lead, was announced the winner. He has demonstrated an exemplary approach to professional medicines governance and led a team through a big change whilst showing care and respect for all stakeholders.
The Public Education Team scooped the team Partnership Award for delivering 20,000 Safety First sessions since 2020. This included delivering the project online during the pandemic, while maintaining their critical role on the frontline and being involved with the Youth and Community Centre Safety Scheme, in partnership with the Met.
The winners of the Team of the Year Award were the Quality Compliance team for implementing a new system for non-clinical auditing across the Trust, liaising with corporate and operational teams to ensure business could continue.
The Outstanding Supporter Award was bagged by Keith Plummer, Emergency Medical Technician at Waterloo. His background in sports science and getting people active through football, having an allotment, and fishing has proved invaluable in supporting our people in so many ways.
Accepting The Rising Star Award was Teresa Agudo Naharro for her work leading sustainability in the Trust. Teresa has real passion, drive, energy and commitment and has achieved a lot in a short time – from raising awareness, establishing a Green Network, to refreshing the Trust's Green plan.
Winner of the Champion of Equality, Diversity and Inclusion Award was announced as Dan Phillips, Mental Health Pioneer Service Paramedic Lead and Co-Chair of our LGBTQ+ network.
Taking away the Improvement in Learning Award was Joseph Chilton, Deputy General Manager in the Clinical Assessment Service. He goes above and beyond to support staff and ensure the best care possible for patients.
The LAS Patients' Award winner was Elaine Hutton, Kane Bascoe, Abigail Trelfa, Rebekah Woodhams and Hollie Thomson for their superb and compassionate care of a cancer patient.
The CEO Above and Beyond Award went to Moataz El-Din, IM&T for his hard work, commitment and success is taking technology in LAS to new heights.
Three CEO commendations were presented:
Ray Lyons after rescuing a man who had crashed his car into a gas main.
Adam Woolsey, Paul Nethersole, Elisa-Maria Livesey, Chris Pickering, William Turner, Elizabeth Coyne, Mark Vials, Jo Nevett, Susanna Malston, Jesse Bourke and Christopher Shephard for their response to the major incident at Wimbledon when a car crashed into a school.
Angus Wilson, Freddie Harris, Nicole Whiteman, Geraldine Hannon, Safia Mohamed, Trinelle Dale, Oliver Sage and Tamara Van-Zyl for helping a man who was stabbed outside HQ recently.