Chief Pharmacist wins top award for transforming pharmaceutical services
The Chief Pharmacist at London Ambulance Service has been recognised with a prestigious industry award for leading the work to transform the Trust's vital pharmaceutical services.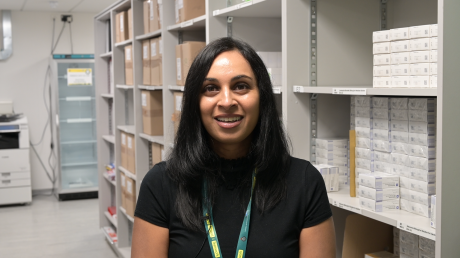 Sumithra Maheswaran, who joined the Trust six years ago in the first role of its kind for an ambulance service, was crowned Innovation Champion at the 2023 Ambulance Leadership Forum Awards yesterday, during a special gala event hosted by the Association of Ambulance Chief Executives (AACE).
Sumithra was honoured for her outstanding work in spearheading the Medicines Modernisation Programme at the Service and improving patient safety by streamlining the way medications are stored, tracked, and accessed by our medical experts.
Daniel Elkeles, Chief Executive at London Ambulance Service, said: "Sumithra and the pharmacy team have played an absolutely vital role in improving patient care and ensuring our medics can prepare their ambulances with stocks of medication more quickly and safely than ever before. Thanks to her incredibly hard and scrupulous work, we are leading the way in medicine management in ambulance services.
"We are incredibly proud that the efforts from Sumithra and her team have been recognised on a national level and I again offer my congratulations to everyone involved."
Since joining LAS in 2017, Sumithra has been instrumental in creating a trail-blazing medicines packing facility, staffed by the largest pharmaceutical team of any ambulance service in the country.
Over the past two years, Sumithra has also introduced secure drug rooms for storing medications at all our 59 ambulance stations.
With her 37-strong team, the service has rolled out electronic tracking of every drug from pallet to patient, significantly reducing medicines packaging errors and helping to improve patient care across the Service.
The success of Sumithra's work has not only helped to transform the LAS's own medicine management systems, but also became an example on how to improve oversight of medications in ambulance services across the country.
Anna Parry, Managing Director of AACE said: "The AACE outstanding service awards give ambulance trusts the opportunity to pay tribute to one member of staff from each of our seventeen member services who have demonstrated exceptional commitment to their work.
"Whether they are front line clinicians, control centre operatives, volunteers or working in support teams, this year's recipients have really done themselves, their patients and their colleagues proud, with each person highly deserving of this recognition by their peers."
Established in 2006 and hosted by the Association of Ambulance Chief Executives (AACE), the Ambulance Leadership Forum (ALF) is the only annual event designed specifically for senior leaders across the UK ambulance sector. This highly respected annual conference and showcasing event brings together board members, managers, NHS system leaders, politicians, academics, and health & social care partners with key suppliers who have a direct interest in improving the UK ambulance sector.