Student sets heart on medical career after his stopped six times in one day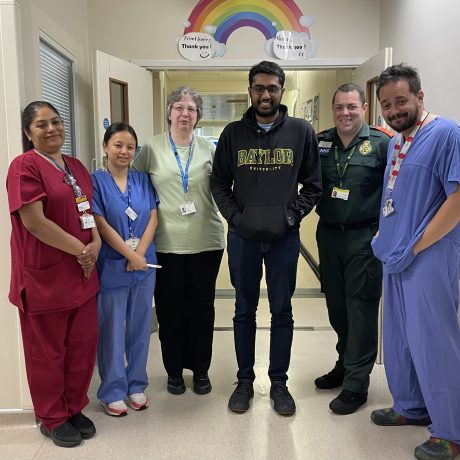 A student whose heart stopped six times in a few hours has thanked the NHS doctors, nurses and paramedics who saved his life and pledged to use his 'second chance' to follow in their footsteps.
Atul Rao, a US citizen, was studying in London when a blood clot in his lungs stopped the blood flow through his heart, a condition called pulmonary embolism, and caused him to go into cardiac arrest.
He was discovered collapsed by fellow students who raised the alarm before an Imperial College London security guard began to give him chest compressions (CPR) in the minutes before London Ambulance Service crews arrived.
Paramedics were able to get his heart beating again and they took him to Hammersmith Hospital's heart attack centre where scans confirmed that blood clots in the lungs were blocking the flow of blood from the heart.
Staff at Hammersmith Hospital worked tirelessly through the night to keep Atul alive and stabilise him but his heart stopped a further five times in that first 24 hours before clot-busting drugs began to work and Atul's heart started beating reliably.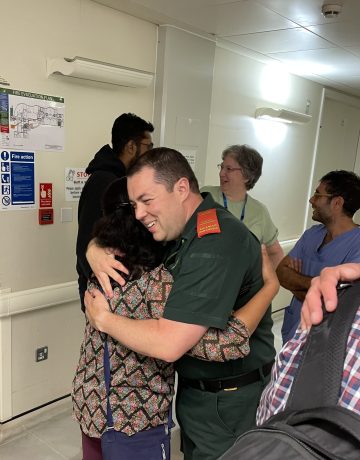 He was still critically unwell when he was transported to St Thomas' Hospital the next day in case he needed access to extracorporeal membrane oxygenation (ECMO) – a life support system which can fully replace the work of the heart and lungs so that patients have time to heal. Fortunately, the clot-busting drugs had begun to work and with the help of other life support machines, he was able to recover without the need for ECMO. Atul made a remarkable recovery over the next two weeks and was discharged from St Thomas' Hospital.
Atul, who is from Seattle and studies at Baylor University in Texas, visited Hammersmith Hospital with mum Srividhya and dad Ajay earlier this month. They were shown the bed space where his heart was repeatedly restarted and spoke to clinicians about what happened to Atul in those hours where his life was in the balance on 27 July. The family told the doctors, nurses and paramedics they were 'thankful beyond words' for the efforts they made to save his life.
Atul told the staff it has helped him decide what he wants to do with his life. He is in his final year of a pre-med degree in his native USA which would allow him to go on to a further degree to practice medicine. But speaking to the London NHS staff he revealed that prior to his cardiac arrest, he had begun to have doubts about his original career choice.
He said:
"Before this happened, I was starting to wonder if I was doing the right thing doing medicine and whether I should be going into business instead. But the minute I woke up I knew. I want to use my time in a productive way. I want to use my second chance at life by helping others."
His mum, Srividhya, a Maths professor in Seattle, said:
"A really bad thing happened in a really good place. Everyone who worked around Atul wanted him to be well. It's clear they love and care about what they do. I feel blessed to be here and I'm so thankful and grateful to you for giving my son back to me.

"I have gained perspective about life and he gets to see it at such a young age. His life has changed, and it's had a profound impact."
Atul agrees. Having spent his 21st birthday in a hospital bed with his parents and some student friends he said:
"Most 21-year-olds want to go out drinking. Given how dangerous my situation had been, I was grateful to be here and have people who love me around to celebrate."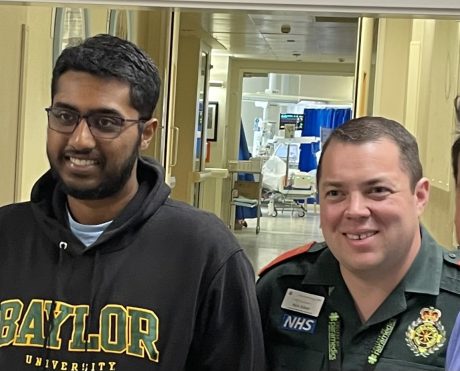 Dad Ajay, who works at a software company, remembered how London Ambulance Service Advanced Paramedic (APP) Nick Sillett broke the news that Atul was critically ill from the scene via his son's mobile. He showed Nick the barely legible notes he took during the call, his hands shaking, and spoke of his agonising flight over to London after knowing decisions were being made which could affect whether his son would live.
Remembering a turning point, Ajay said:
"At the start Atul was sedated. I used to call St Thomas' Hospital ICU in the mornings after the doctors' rounds to ask for news and one morning they said 'hold on'. Then I heard Atul come on and say 'hey, dad'. It was the sweetest 'hey, dad' I have ever heard and I wanted to run to him right away."
Thanking the NHS staff, he added:
"I'm not exaggerating, Hammersmith and St Thomas' hospitals have become places of worship for us. We will be coming here whenever we come to London.

"It was the heroic efforts of London Ambulance Service, the amazing medical teams of Hammersmith, St Thomas' and Royal Brompton that saved him from this life-threatening series of events."
The couple did not have much time to appreciate London on this first visit. So concerned were they about their son in the immediate aftermath of his recovery, they walked by Big Ben for several days on the way to St Thomas' Hospital before realising they were passing the iconic landmark. Every time they heard an ambulance pass they say they were praying for the patients inside and the medics who would be caring for them.
APP Nick Sillett, said the reunion had been very emotional.
"The last time I saw Atul I didn't think he was going to survive. To meet him again and speak with his parents after giving them such terrible news was a very special moment in my 18 years in this job. Knowing we managed to save Atul gives me courage and hope should I encounter that situation again.

"The LAS crew first on scene also were the real heroes in recognising so quickly he was in cardiac arrest and managed to give him a chance."
Dr Louit Thakuria, a Critical Care Consultant at Imperial College Healthcare NHS Trust's Hammersmith Hospital, said:
"It's not often you see 20-year-olds have a cardiac arrest and it's even more rare to see someone who has had six cardiac arrests in one day make such a miraculous recovery.

"This was a real team effort and so many people helped ensure Atul was able to be here. It's a privilege to be a part of that and hear that you have helped make such a positive impact."
Dan Taylor, an intensive care and ECMO consultant at Guy's and St Thomas' NHS Foundation Trust, said:
"Atul had a very challenging combination of problems which required input from multiple specialist teams. Thankfully his heart failure improved and he was able to avoid ECMO, but he spent several days critically ill in the intensive care unit.

"The whole team are delighted that Atul has made such a great recovery, and we wish him the very best in his medical career in the future."
There are many known risk factors that can contribute to the development of a pulmonary embolism, like prolonged air travel. Now that Atul has recovered from his cardiac arrests, he is having tests to investigate the underlying cause for the formation of this dangerous blood clot in the lungs. Once doctors agreed it was safe, he was allowed to return home to the US.
His case shows the importance of receiving good chest compressions in the immediate aftermath of a cardiac arrest.
London Ambulance Service's London Lifesavers campaign aims to train up thousands of Londoners with the knowledge and confidence to act in an emergency situation until ambulance crews arrive at the scene. Evidence shows that in cardiac arrest, every second counts and early chest compressions and defibrillation can more than double someone's chances of survival.
You can learn how to become a London Lifesaver here.
Meanwhile, with support from Imperial Health Charity, Imperial College Healthcare are currently working to develop an ECMO service at Hammersmith Hospital to give critically ill patients the best chance of survival. ECMO is a highly specialised life-support machine that can completely replace the function of the failing heart and lungs in an emergency.
Find out more about Imperial Health Charity's ECMO Appeal on the charity's website.