Crowds at Notting Hill Carnival encouraged to enjoy celebrations safely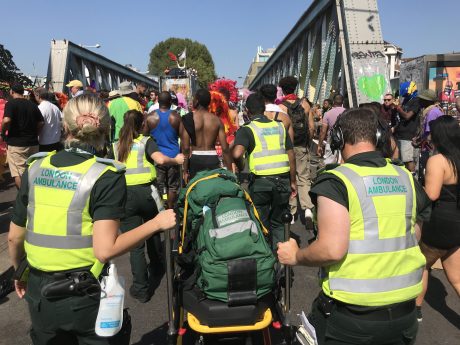 Medics at London Ambulance Service (LAS) are calling on the public to celebrate Notting Hill Carnival safely this bank holiday weekend, as the Service prepares for the biggest street festival in Europe.
The annual festival celebrating Caribbean culture and heritage is expected to attract up to a million visitors to the streets of west London across two days.
London Ambulance Service has significant experience supporting large scale events such as Notting Hill Carnival and has robust plans in place to ensure it can continue to provide the best possible care to people across the capital.
To handle the increase in demand, there will be nearly 400 additional staff on duty this weekend across London. These will include teams on foot, bicycles and double-crewed ambulances in crowded areas of the carnival to try to ensure crews reach the most seriously ill and injured patients as quickly as possible.
This also includes extra staff in the Service's dedicated special operations centre and logistical support staff based at its deployment centre, who will be issuing medical equipment and moving vehicles to ensure LAS can still care for Londoners.
Natasha Wills, Director of Resilience and Specialist Assets at London Ambulance Service, said:
"We are proud to serve such a diverse city and we really want people to have fun, stay safe and look out for each other.
"This is the largest emergency planning event we've undertaken and, with the huge increase of visitors in London over the weekend, we expect to be particularly busy.
"We ask those taking part in the celebrations to bring with them any regular medication they might need, wear appropriate clothing, drink plenty of water and eat regularly.
"Remember to keep hydrated, particularly if you're drinking alcohol, and have water or soft drinks in-between alcoholic drinks.
"Our teams are always here to help if you need us, but we would ask that people follow advice, use our services wisely and contact your GP, pharmacy or NHS 111 where possible. Londoners can continue to help us by only calling 999 in a serious medical emergency.
"Our incredible LAS staff, with our partners at St John Ambulance, will be working hard to ensure our patients receive the best possible care, and I would like to take this opportunity to thank those who will be on duty over the bank holiday weekend."
At the event, there will also be fixed first aid treatment centres provided by St John Ambulance within the carnival footprint, supported by London Ambulance Service cycle responders, medical response teams and ambulances.
Some local pharmacies may have different opening hours this bank holiday. If you need advice or medication from a pharmacist in London, use the NHS pharmacy finder to check which pharmacies are open near you.