Teen medic calls on next generation to consider ambulance career
An inspiring teenager, who decided against a Maths degree to save lives, is encouraging young people in the capital to consider a future in the ambulance service.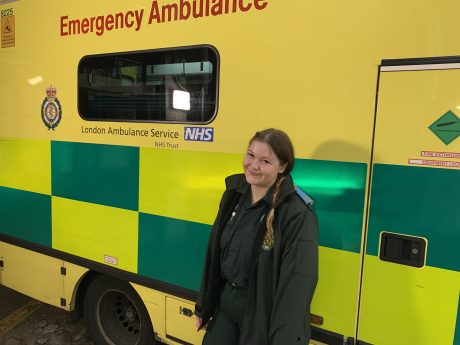 London Ambulance Service apprentice Poppy Burnell, who joined the Service last year when she was just 18, has already delivered a baby, rescued people from overturned cars and helped hundreds of sick Londoners.
As teenagers all over the country wait for their exam results, Poppy has spoken about her story to inspire the next generation to learn about the opportunities to make a difference in their community.
Poppy said: "I had my heart set on a Maths degree, until something happened which made me change my mind.
"I was in the car with one of my closest friends and she started having a seizure.
"I was very scared and didn't know what to do. I stopped the car and called 999.
"The crews who turned up were incredibly professional, and their care, not only to my friend but also to me, made me feel so reassured.
"Luckily my friend recovered well, but the incident inspired me to be the person that can help in someone's time of need."
Last September, Poppy was offered a place at London Ambulance Service as an Assistant Ambulance Practitioner, which allows people with no clinical experience to gain the skills to work on the frontline next to a qualified paramedic.
After two years on this programme, frontline crews can earn a fully-funded degree in Paramedicine.
Speaking about the challenges of the job Poppy, now 19, said: "Making such vital decisions can be scary at times, but there is always an experienced colleague helping you deal with them. I also think that being exposed to such difficult situations matures you.
"The hardest thing for me is dealing with the patients' relatives. When someone is really unwell, seeing their family so upset hits me quite deeply, but I love that we can be there for them too.
"I'm quite a positive person and like to see a new patient as a new start, a new person and a new story."
"Every patient encounter is rewarding in its own way, but I love when we manage to get an elderly person up after a fall which has left them stuck on the floor."
As the country's teens wait anxiously to hear if they have got into university or consider where they will apply once they have their results, Poppy urged her peers to consider alternatives to a degree.
She said: "I thought University was my only option, but I'm so happy I found out about this apprenticeship. Learning and working at the same time is so helpful, things just click when you see them.
"If you are thinking about what to do in the future, make sure you explore all your options and don't write off an apprenticeship because it's not what most people would do!"
Last year, London Ambulance Service was ranked as the top NHS employer for apprenticeships in the country by the Department for Education – ahead of big name companies like Tesco and Amazon.
We are currently recruiting for Assistant Ambulance Practitioners (Apprentice) – learn more about the role. The  current deadline for applying is Sunday 3 September 2023.
For more information on the different apprenticeship opportunities visit a dedicated page on our website.