From scoring goals as a Lioness to saving lives as a paramedic in London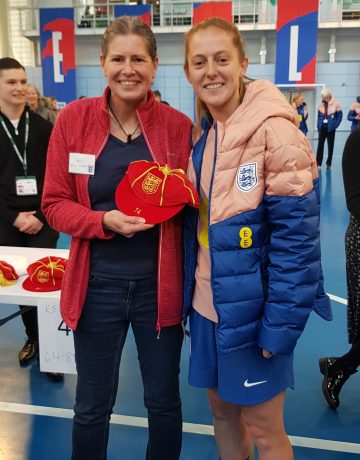 Ahead of the England World Cup match this weekend, a paramedic at London Ambulance Service has revealed that she played for the Lionesses during a successful 30-year football career.
Before joining the Ambulance Service in 2002, Carole Osborne had scored goals for county teams, regional teams, and played for England in August 1988.
As World Cup fever sweeps the UK with the Lionesses playing Colombia on Saturday, Carole explains:
"I was first picked to be part of the England squad in August 1988 against Norway, in Norway. However, I was a substitute and didn't get on in that match.
"On 4 September 1988, I was a substitute for the match against Finland held at Millwall. I gained my first cap on 18 September 88 when I came on as a substitute for the return match against Norway and then my final appearance was in April 89 when I came on against Scotland."
Carole went on to play for Maidstone Ladies, Maidstone Tigresses, then Croydon, and finally Charlton Athletic.
"Club football had taken me up and down the country, and being part of Maidstone Tigresses was fantastic as we were invited to play in the first ever Women's National League," she added.
Carole unfortunately suffered an ankle injury at a training session, and although she managed to recover and play again at club level, it spelt the end of her international career.
Carole said: "I was quite happy playing at club level. At the time, women did not get paid for playing professional football so I had another job alongside it. When I played for England, our transport and hotels were paid for, but at club level we had to pay for all of our own expenses. I'm so pleased that's no longer the case for our Lionesses and I wish them every success for the match on Saturday and the rest of the tournament."
Speaking about supporting women and girls to play football, Carole said: "It doesn't matter what age you are, if you want to play football, I would say go for it! If you know a woman or girl who wants to play, encourage and support them any way you can.
"If you want to achieve the highest level in any sport or career you have to be fully committed and take every opportunity which sometimes means missing some family engagements and social events with friends but it's all worth it when you reach your goal."
Reflecting on making the switch between player and paramedic, Carole said: "The transition was quite easy. I had recently retired from playing football and was working for a pest control company but began to think that I could dedicate myself to a more rewarding job.
"Caring for people wasn't new for me as my first job when I left school was working in a care home. I was very close to joining Kent Ambulance Service (now SECAMB) but after bumping into a team leader from Bromley who told me London were recruiting and, after doing a bit of research, I decided this was the service for me and 20 years later I'm still here.
"It's the most enjoyable and rewarding job I've had."