London Ambulance Service celebrates 75 years of the NHS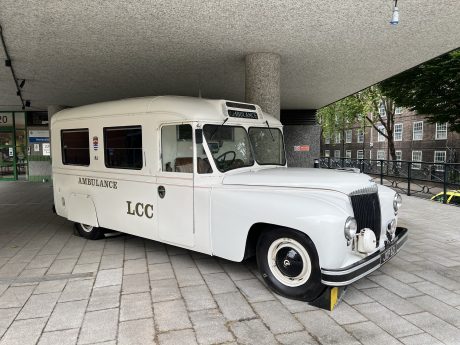 London Ambulance Service is joining the nation in celebrating the difference the NHS has made to millions of people's lives over seven and a half decades.
We will mark the 75th birthday tomorrow (Wednesday) with events that reflect on the past, look to the future, and honour the contribution of staff and volunteers past and present.
Daniel Elkeles, Chief Executive at London Ambulance Service, said:
"The NHS is a huge part of national life touching the lives of every one of us at some point.
"The selfless dedication and extraordinary sense of duty of those who have worked for the NHS over the past 75 years to provide care has saved or transformed literally millions of lives.
"My most heartfelt thanks goes to everyone who has been part of the history of this much-loved institution.
"And to our ambulance crews, control room staff, 111 call handlers, cleaners, mechanics, Make Ready teams and all those who work to keep London Ambulance Service functioning 24 hours a day – I am immensely proud of you and your work is hugely appreciated!"
This week provides an opportunity for London Ambulance Service to take stock of the huge changes in pre-hospital care since the creation of the NHS and will be displaying a historic Daimler ambulance outside the Waterloo Road headquarters, which entered service a few months after the birth of the health service in 1948.
#NHS75 incoming! 🥳

This 1940s Daimler DC-27 ambulance was the first to enter service in London during the first year of the NHS!

It's now proudly on display outside our Waterloo HQ 👋 pic.twitter.com/vhNPehG07o

— London Ambulance Service 💙 (@Ldn_Ambulance) July 4, 2023
A small number of representatives from the Service will also partake in a national celebration at Westminster Abbey to pay tribute to NHS staff and patients. They will include motorcycle paramedic Richard Webb-Stevens, who has campaigned to make the profession more accessible to those with hearing impairments and who received a Queen's Ambulance Service Medal for distinguished service last year.
To honour the tireless efforts of current ambulance staff and volunteers, the London Ambulance Service Charity will also offer snacks to colleagues across the ambulance stations of the capital ahead of starting their shift.