"My niece's miraculous survival urged me to learn life-saving skills"
A woman who learned how to save a life at a London Ambulance Service event this month said that her niece's "miraculous" cardiac arrest survival motivated her to get trained.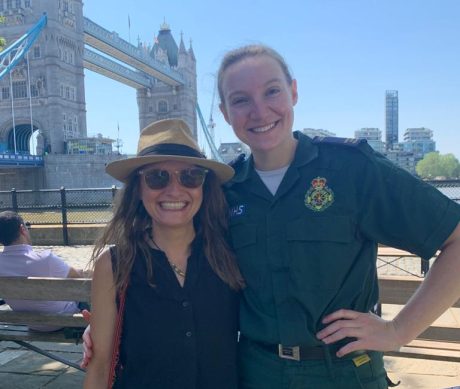 Gemma Pardo's niece, now 23, was saved by her brother's effective chest compressions when she collapsed during a run four years ago.
The siblings were exercising together in their town in Denmark when the girl's heart stopped beating. The brother bravely jumped into action to start life-saving CPR before the Danish emergency services arrived to continue the intervention.
Gemma, 47, who lives in Clerkenwell but is originally from Galicia, Spain, was outside the Tower of London with her son and decided to join the London Lifesavers event to get the vital training.
She said: "My niece's survival was miraculous and what my nephew did to help his sister is beyond any words.
"Before the incident, she was a fully healthy person who loved sports. She has made a great recovery now, but wears a pacemaker.
"Since her incident, I have been thinking that I need to get trained. I'm so pleased I managed to learn how to save a life today, I feel confident that I'd be able to intervene if it came down to it. I can't wait to tell my sister."
London Ambulance Service paramedic Sabrina Listea, who trained Gemma in life-saving skills, said:
"We all think that the worst day is never going to happen to us, but unfortunately, a cardiac arrest can happen to anyone, at any time.
"Knowing how to do effective chest compressions can save the life of a loved one. It's so important that we all get trained to make the most of the few minutes before an ambulance arrives."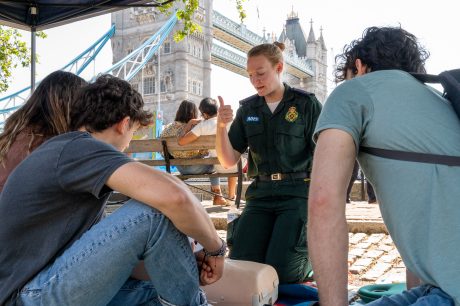 74% of cardiac arrests in the UK happen in the home, meaning that training could help you save the life of a person you love.
Only 10% of people survive a cardiac arrest, but chances of survival increase if CPR is started as soon as possible and a defibrillator is used.
Every second that goes by without lifesaving intervention decreases the chances of survival for that person by 10%.
The London Ambulance Service London Lifesavers campaign aims to make Londoners as confident as possible in doing chest compressions and using a defibrillator.
You can learn how to become a London Lifesaver here.