Pioneering mental health joint response unit shortlisted for prestigious NHS Parliamentary Awards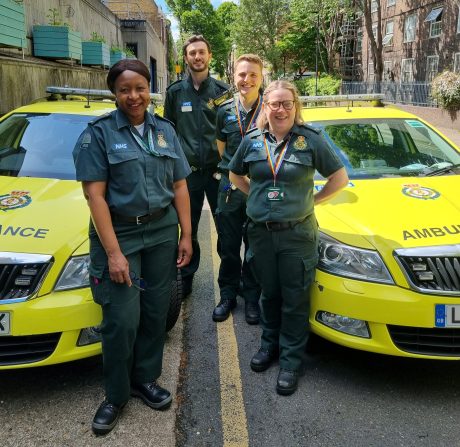 A ground-breaking scheme at London Ambulance Service (LAS) which pairs a mental health professional with a paramedic to treat people experiencing a mental health crisis has been shortlisted for the prestigious NHS Parliamentary Awards.
The Service's mental health joint response unit allows a more tailored response to a patient's mental and physical needs, ensuring vulnerable patients get the treatment they need at home or through local community services, and wherever possible avoids unnecessary visits to hospital emergency departments.
More than 17,000 people have been helped by this specialised team since January 2020 when the service expanded across the capital. Ensuring equity of access to care is a key focus at LAS and, thanks to the expertise of this joint team, just 16% of patients experiencing a mental health crisis have needed to be taken to an emergency department.
Alison Blakely, Director of Clinical Pathways and Clinical Transformation at London Ambulance Service, said:
"I'm delighted that the team have been nominated for their incredible work. Thanks to their expertise, we can ensure that we can provide a response that meets each patients' individual needs and sees their mental health treated with the same level of importance as their physical wellbeing.
"This importantly helps patients receive the best possible care away from busy emergency departments that may not be conductive to their recovery."
The unit, which was launched as a single car in south east London in November 2018 before expanding to six response cars, was nominated for the honour by eight London MPs.
Dr Rosena Allin-Khan MP, Shadow Minister for Mental Health and Labour MP for Tooting, who nominated the team for the award, said:
"I am thrilled to see the London Ambulance Service's mental health joint response unit has been shortlisted for an award. Every patient deserves the very best standard of care, and through this team, patients experiencing a mental health crisis are being directed to the services that work best for them. This is a well-deserved recognition of the brilliant efforts that these mental health professionals put in every day."
Members of the mental health team also work in our 999 control rooms, supporting colleagues answering calls from members of the public who are experiencing a mental health crisis, guiding teams who are dispatching LAS crews to patients, and providing patients with direct telephone assessments.
The team works closely with local mental health trusts to ensure the patients they support receive the care they need from community services in the most efficient way possible. The scheme has benefited from close collaboration between LAS and mental health trusts to ensure the patient gets the right care in the right place, first time.
The NHS Parliamentary Awards launched in 2018 to celebrate the NHS' 70 birthday and recognise the outstanding contribution of staff, volunteers and others working in the health and care sector. Now in its sixth year, the awards have been an overwhelming success with more than 700 nominations being submitted by over half of MPs representing constituencies in England last year alone.
The MPs who nominated the mental health response team are: Ellie Reeves (Labour, Lewisham West and Penge), Lyn Brown (Labour, West Ham), Sir Keir Starmer (Labour, Holborn and St Pancras), Catherine West (Labour, Hornsey and Wood Green), Feryal Clark (Labour, Enfield North), Stephen Hammond (Conservative, Wimbledon), Rosena Allin-Khan (Labour, Tooting) and Marsha De Cordova (Labour, Battersea).
The winners will be announced at an Awards Ceremony on the health service's 75th anniversary on Wednesday 5 July 2023, to which all nominees, their relevant MPs and other key figures will be invited. The ceremony will be held at the Queen Elizabeth II Centre in Westminster.