Ambulance services launch award-winning challenge to raise funds for our superstars in green
Ambulance services across the country have joined forces to ask the public to support their local ambulance charity by beating the distance covered by an ambulance in a 12 hour shift.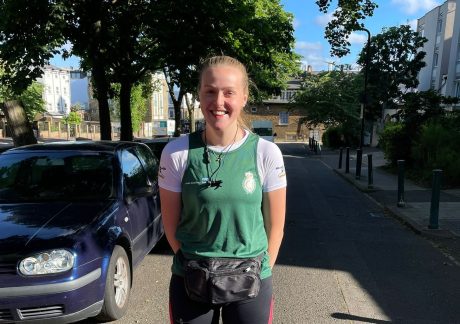 Six regional ambulance charities including South Western Ambulance Charity, East of England Ambulance Charity, London Ambulance Charity, North West Ambulance Charity, South Central Ambulance Charity and Yorkshire Ambulance Charity are together launching an exciting national challenge for people to fundraise for vital equipment, facilities and staff wellbeing at NHS ambulance services.
'Outrun an Ambulance' invites people to beat the distance an ambulance covers on an average shift and participants are challenged to complete the distance, plus one mile by running, walking, swimming, scooting, hand-cycling, or anything that is self-propelled.
People can choose the distance they want to do based on the mileage covered by crews during the course of a typical shift, which varies per geographical region and for each ambulance service involved.
Fundraisers can choose their timeframe, up to a maximum of three months to 'outrun' the distance by at least one mile.
The challenge is designed to suit all people and all abilities. You don't need to complete it in one go, and you could take part as a team with each individual covering part of the distance. Simply choose your location, and sign up on your local charity's fundraising page.
Money raised is used to fund enhanced medical equipment for patients and initiatives for staff and volunteers, including defibrillators for the public to access in the community, wellbeing support, staff grant requests and upgrades to the work place.
Jess Burgess, Head of Charity Development at London Ambulance Service, said:
"Our incredible staff and volunteers are always here for us and our loved ones. I'd encourage members of the public and our local communities to support our ambulance crews, call handlers and dedicated volunteers by joining the efforts to raise funds for new equipment and facilities.
"There isn't a better way to fundraise for our ambulance services while looking after your health and wellbeing. All funds raised makes a difference to the lives of our crews on the road or in the control rooms and every mile of ground covered for this challenge counts whether you do it alone or with friends, family or colleagues."
Zoe Larter is the Head of Charity at South Western Ambulance Service and launched the first national campaign in 2021. She said:
"Outrun an Ambulance has proved to be an exciting and inclusive challenge which focuses on supporting individual health and wellbeing whilst raising vital funds to support the work of NHS ambulance charities.
"In 2023, for the 75th anniversary of the health service, I would encourage everyone to take part and 'do it your way!' – pick a mileage that represents a challenge for you and conquer it."
Sign up for a Just Giving account now to start your fundraising journey and sponsor existing teams.
"I wanted to set myself a challenge"
Ellie Davies conquered the challenge of 31.07 miles in a solid 12-hour stint and raised an impressive £816 in total.
Ellie worked as a 111 Health Advisor for London Ambulance Service before she returned to university last September to study full time. Health advisors answer and take charge of all incoming 111 calls and make initial patient assessments over the phone.
Looking back, she explained that she struggled to find time and motivation to exercise and train after her shifts but found the challenge flexible and engaging. Ellie said:
"This challenge meant I could set the date myself around my shifts, and have something to train for when I got back from work.
"I thought running 31 miles in one go could be a bit too adventurous, so I decided completing it in 12 hours was slightly more achievable.
"I planned the route along the river in London, heading out west and back, and had a friend joining me every 5k to join my efforts to raise funds for LAS. Some of them ended up running half marathons or more with me!"
"Working as a group means we can all encourage each other"
The CFR Klaxons team is a small group of Community First Responders for South Central Ambulance Service who trained together in October 2022.
The team – based in Berkshire and made up of Jane Hood, Karen Jeffery, Tim Langellier and Laura Turner – continued to go on shifts together once they were qualified.
Laura said: "We speak to each regularly to provide emotional support for each other after caring for patients and we still do regular buddy shifts together which we all enjoy."
Laura suggested to the team that they complete the Outrun an Ambulance challenge as a group as she had completed it individually the previous year. The twist: to attempt  330 miles – the average miles covered by their entire fleet of Dynamic Response Vehicles. But in three months the team exceeded this goal and completed a staggering 1,485 miles.
They completed their final mile together through Reading town centre, walking from the ambulance station up to the Royal Berkshire Hospital A&E carrying their kit bags to celebrate the completion of their task.
Jane added: "We thoroughly recommend the challenge to others, whether alone or in a group, but working as a group means we can all encourage each other and if some have less time for a few weeks, the others can pick up the slack.
"Our individual weekly totals have varied from two miles to almost 60 miles. Everything helps."
Their efforts have raised £4,450 for the South Central Ambulance Charity.