Chief Paramedic appeals for Londoners to enjoy historic Coronation safely this Bank Holiday weekend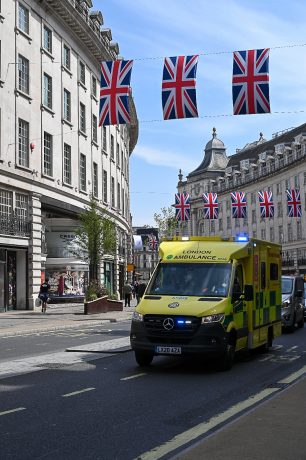 Londoners are being encouraged to celebrate the Coronation events safely this weekend, as London Ambulance Service gears up to support the capital's biggest ceremonial event since the death of Queen Elizabeth II last year.
Recently, London Ambulance Service has received an average of just over 4,000 999 calls on a normal Saturday, but its forecasts show 999 calls could top 5,000 over the day of the Coronation.
To handle the increase in demand and potential for trips, slips and falls among the crowds, there will be an additional 265 London Ambulance Service staff in the area of the procession and in control rooms.
London Ambulance Service Chief Paramedic Dr John Martin said:
"We are proud to have a part to play in the Coronation of His Majesty The King and Her Majesty The Queen Consort and help London host this historic event safely.
"There will be many visitors coming to central London to join the celebrations so we expect to be particularly busy.
"We ask the public to play their part: if you are coming to join the celebrations, please remember there may be showers across the weekend so bring a waterproof layer, wear appropriate clothing for the temperature, make sure you carry any regular medication with you, drink plenty of water and eat regularly.
London Ambulance Service is also busy over bank holidays when people can forget to replenish their prescriptions.
Dr Martin added:
"Some local pharmacies may have different opening hours this bank holiday. So if you need advice or medication from a pharmacist in London, use the NHS pharmacy finder to check which pharmacies are open near you.
"People can also help us by only calling 999 in life threatening emergencies and using alternative services such as 111 online for advice about less serious issues."
The additional 265 staff will include teams on foot, bicycles, and motorbikes in crowded areas to try to ensure crews reach the most seriously ill and injured patients as quickly as possible.
There will also be fixed first-aid treatment centres along the route staffed by 250 St John Ambulance medics and supported by responders from London Ambulance Service.
London Ambulance Service has prepared for the Coronation-day operation – known as Golden Orb – for five months, drawing on its experience of responding to other big events such as Notting Hill Carnival, the Olympics, and New Year's Eve celebrations.
It has worked in partnership with St John Ambulance, Metropolitan Police, Transport for London and other parts of the NHS to ensure that people joining celebrations in central London can get treatment if they become unwell or sustain injuries and patients in the rest of the capital can continue to receive the same standards of care as they would do on another Bank Holiday weekend.