Brave child who rang 999 when her mum collapsed reunited with call-handler who sent help
A five-year-old girl who called 999 when her mum collapsed has met the London Ambulance Service call handler who answered her cry for help.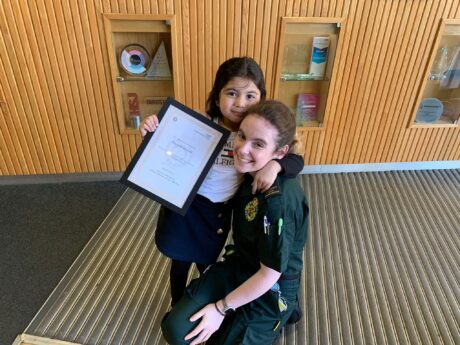 Zaynab Qasim, who turned six yesterday, had finished school for the day and just arrived outside her home in East London when she saw her mum fall unconscious last June.
When she couldn't wake her up, the frightened schoolgirl found her mum's phone and called 999.
Zaynab said: "I was scared when mummy fainted."
In a recording of the 999 call, call handler Natasha White asks: "is she awake?", Zaynab responds "no". Natasha then asks: "is she breathing?", Zaynab again said "no", as she couldn't see her mum breathing.
The child tells the call handler where they are, and gives her full address and then confirms some landmarks near her home.
Natasha reassures Zaynab, saying, "I can see where you are. Help is on its way. Just stay on the line."
An ambulance crew quickly arrived to help mum Samina Iqbal who was later found to have suffered a debilitating migraine which caused her to collapse.
Samina said: "I'm so proud of Zaynab! She literally helped me in such a stressful situation while staying so calm."
"I'm so impressed she knew our address by heart.
"We actually never taught her to call 999, but because of an incident that happened to a close family member in the past, Zaynab has always known that in the event of a medical emergency you should call an ambulance.
"I now think all parents should teach their children how to make emergency phone calls."
Today, LAS Chief Medical Officer Dr Fenella Wrigley, Director of 999 Operations Stuart Crichton, and call-handler Natasha welcomed Zaynab, Samina and dad Muhammad to the Service's headquarters in Waterloo, where they handed her a certificate honouring her bravery.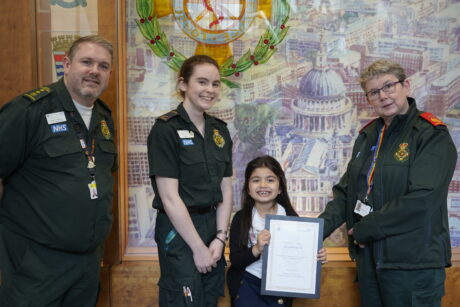 Natasha said: "Zaynab did so brilliantly on the call. She managed to stay calm and was able to give me her full address and landmarks which made it easy for the ambulance crew to reach her mum.
"I loved meeting her – call handlers rarely get to meet callers or the patients we help. And this was a very special caller!"
Stuart said: "Zaynab is a very clever girl and a credit to her parents! Teaching your child how to call 999 in an emergency could save your life.
"You don't need to unlock a phone to make a 999 call but it is important that children know their full address and how to open the front door in an emergency."
London Ambulance Service is recruiting call handlers. If you would like to join a life-saving team you can find all our current vacancies here.