Teenager who suffered cardiac arrest reunited with heroes who saved his life
A teenage boy who suffered a cardiac arrest outside Twickenham Stadium has been reunited with the London Ambulance crew and medics at St George's Hospital who saved his life.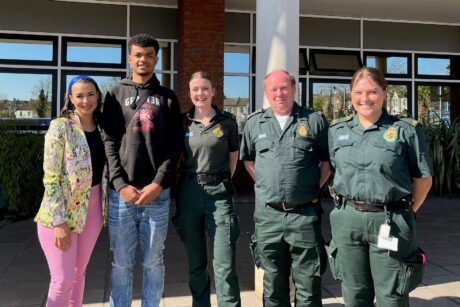 A team of ambulance crews, doctors and security staff at the stadium worked together in a race against time to rescue Joel Quadri, who had collapsed outside the stadium's ticket office.
Thanks to the life-saving intervention of LAS and doctors from St George's Hospital cardiology team, Joel is living life to the full and studying to become a mechanical engineer.
On a cold December morning in 2021 Joel, then 16, was walking with his friends to the stadium, where he waited tables, when he suddenly collapsed face-down onto the pavement.
One of his friends, Elliot, desperately went looking for help nearby.
Fortunately, he found Lee Emmet, a paramedic and training officer, who had arrived at the sports venue to train new LAS recruits joining its hazardous area response team (HART), a specialist group of staff who provide life-saving care in hazardous areas such as industrial accidents or natural disasters.
Lee raced to help Joel, who had injured his face and cracked his teeth from the fall.
Along with Dr Steffan Griffin, a sports medicine fellow for the Rugby Football Union and junior doctor at West Middlesex Hospital, who was arriving to work at the stadium, they turned Joel over and realised that he wasn't breathing normally and didn't have a pulse.
When someone suffers a cardiac arrest, their heart stops and every second counts to restart their heart.
Lee and Steffan started performing CPR on Joel and called for the new recruits at the training event to assist. Lee also contacted the LAS emergency operations centre to send an ambulance.
Within minutes, Lee's LAS colleagues from training joined them in their efforts to keep Joel alive while the ambulance rushed to the scene.
A security guard brought a defibrillator that was stored at the stadium, which LAS used to deliver an electric shock to restart his heart.
A medic in a fast response car was the first to arrive, soon followed by an ambulance crew, an advanced paramedic and an incident response officer. Providing Joel with pain relief and utilising an ECG and an ultrasound machine, the paramedics saw that he had an enlarged heart and required emergency specialised care.
Advanced paramedic Kevin Cuddan made the decision that Joel needed to be conveyed immediately to St George's in Tooting, where he was ventilated to minimise damage to his brain and organs.
Lee Emmett said: "We couldn't have done it without the help of everyone there on the day – and I would like to thank all our LAS colleagues and stadium staff, and our NHS family at St George's for this team effort.
"It's so important that members of the public know how to do CPR and use a defibrillator available in public places. Each year more lives, like Joel's, are being saved by using one of these devices.
"They are simple to use by the public, who can respond and begin initial emergency life support before the arrival of an ambulance crew. That's why it's vital that as many people as possible know how to step in to help a person in cardiac arrest."
Joel was diagnosed with hypertrophic cardiomyopathy via an MRI scan, a rare genetic disease that affects one in 500 people in the UK. Hypertrophic cardiomyopathy is a disease where the muscular wall of the heart – the myocardium – is thickened and makes it harder for a person's heart to pump blood out of the heart and around the body.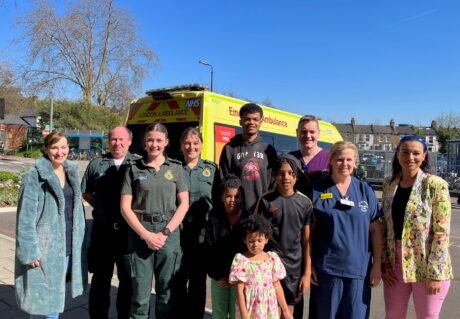 Dr Dominic Spray, Consultant in Cardiothoracic Anaesthesia and Intensive Care at St George's Hospital, said: "Delivering effective CPR very quickly in this situation was key to ensure Joel's best chance of survival. For every minute without CPR, a patient's survival rate decreases by up to 10 percent, so early intervention was very important to prevent further widespread damage to Joel's brain and other organs."
Joel spent five days in the intensive care unit before he was moved to the cardiology ward where he was started on medication and had surgery to implant a cardioverter defibrillator, also known as an ICD.
The ICD, a life-saving device, constantly monitors Joel's heart to keep it beating regularly, and avoid further episodes of cardiac arrest.
Joel's mother, Amber, recalls: "It feels like a miracle. I was completely blown away by the paramedics and the doctors and nurses at the hospital. I would like to express our deepest gratitude. They're all heroes. He was able to get the care he needed in time and the speed in which the paramedics responded made all the difference."
Joel, now 18 and lives in Kew, south west London, said: "Without the medics I wouldn't be here today. I can't thank them enough for saving my life. They are so selfless in the moments they're focusing on saving a person's life."
Honorary Consultant Cardiologist, Professor Michael Papadakis specialises in inherited cardiac conditions, and continues to oversee Joel's care at St George's Hospital. He said: "The defibrillator device installed in Joel's heart helps to regulate his heart rate and will control any potentially life-threatening heart rhythms. Joel's condition will continue to be monitored by our multidisciplinary inherited cardiovascular team, and we will support him to live a full and active life."