London Ambulance Service honours colleagues lost during the Covid pandemic
London Ambulance Service (LAS) held a minute's silence at midday today (Thursday 23 March) to pay tribute to those who lost their lives during the pandemic, as part of the National Day of Reflection.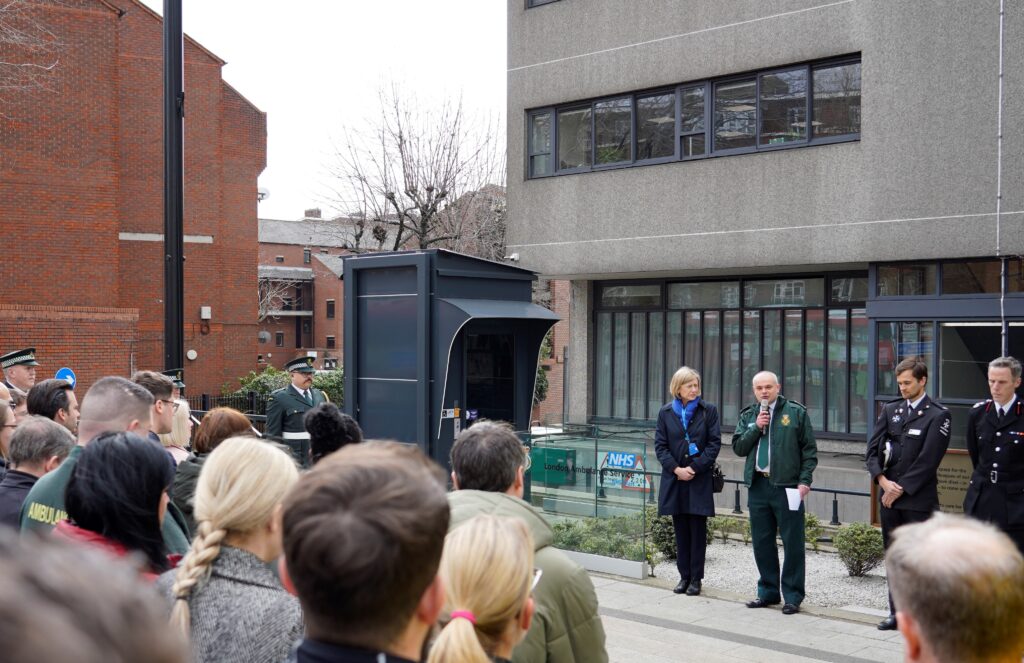 Staff and volunteers came together in the memorial garden outside the Service's Waterloo headquarters for a short service and minute's silence, led by Chief Paramedic Dr John Martin.
The Day of Reflection, which falls on the third anniversary of the UK's first national lockdown and is led by end-of-life charity Marie Curie, brought people together across the nation to remember those who have died during the pandemic and to support those who have been bereaved.
LAS was joined by representatives from the London Fire Brigade, St John Ambulance and the wider NHS who all entered into partnerships with London Ambulance Service to respond to the pandemic.
Dr John Martin, Chief Paramedic at LAS, said: "I would like to thank everyone for joining us today in a one-minute silence to remember our LAS family and others who sadly lost their lives during the pandemic. This Day of Reflection enabled us to come together to reflect on our collective loss of both colleagues at London Ambulance Service, and loved ones across the entire nation.
"The pandemic had a severe impact on London, and took its toll on all of us at LAS. We lost members of the team who I know were more than just colleagues – they were good friends, LAS family, and we will never forget them.
"We will always remember our late colleagues, and will never forget their commitment and dedication to the Service during the most unprecedented challenges that the NHS has ever faced. For those with us today, we owe you our deepest gratitude for making huge personal sacrifices for Londoners and for your selfless commitment to our patients and each other."
Helen Pettersen, Regional Director for the NHS in London, who joined the event, said:
"We gathered today to remember and pay our respects to those we lost and offered our condolences to families, friends and colleagues who are bereaved.
"It's also important to remember the incredible efforts of our colleagues at LAS, the wider NHS family and our partners who worked closely with us in the health service to protect the communities we serve in London during the pandemic. I would also like to pay my respects to our colleagues in social care and the efforts made by NHS colleagues and partners to deliver the vaccines."
During the Covid pandemic a new blue-light partnership between LAS and the Metropolitan Police Service was established so that police officers across the capital could help drive ambulances and assist medics to help boost the emergency response to the pandemic.
The police officers are blue-light driving trained, have basic first aid skills and know the streets of London well, which made them the ideal partners to assist the ambulance service during that period of unprecedented demand.
A similar partnership with London Fire Brigade during the pandemic saw firefighters helping with a number of roles across the ambulance service including driving ambulances.
Since the start of the first national lockdown in 2020, LAS has received over 6 million 999 calls and over 5.5 million 111 calls, and attended 3 million emergencies.