Paramedic who nearly died from COVID represents London Ambulance Service at "Trees of Life" memorial event
A motorcycle paramedic who fell gravely ill with COVID has represented London Ambulance Service (LAS) at a special event to remember those who died during the pandemic.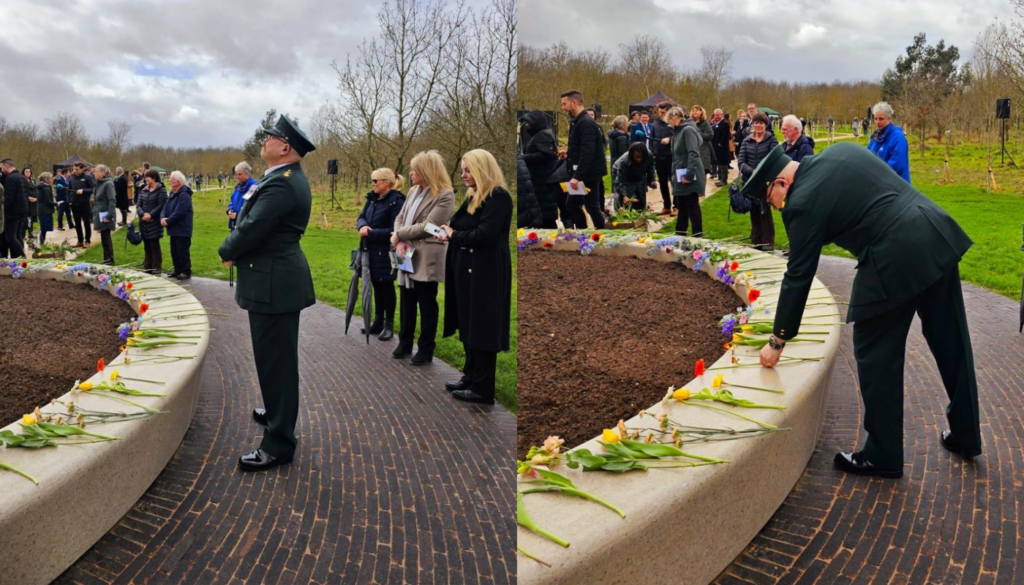 Richard Webb-Stevens attended a dedication service for the Trees of Life Glade at the National Memorial Arboretum in Staffordshire today (Tuesday 21 March).
The tree saplings which make up the glade were planted last year as a living memorial for the 200,000 people who lost their lives in the UK.
The trees also honour the bravery and dedication of the NHS staff and other key workers who served in the COVID-19 pandemic and were special guests at today's blessing.
They were invited to lay tributes of spring flowers after the service, which was led by the Very Reverend Dr David Hoyle, Dean of Westminster.
Richard said: "The Trees of Life Glade is an incredible living memorial and it was very humbling to be at today's dedication.
"The event was so moving as we all came together to remember those we have lost and to give thanks to the courage, care and compassion for those in the NHS and beyond who worked so tirelessly throughout the pandemic."
Richard contracted COVID in the very early days of the pandemic and was so seriously ill, his ambulance colleagues rushed him to hospital on blue lights.
He was in the resuscitation department for five hours as doctors battled to save his life. He eventually started to show signs of improvement and after five days in hospital was discharged.
It was months before he made a full recovery.
He added: "I am lucky to have survived but I sadly lost friends and colleagues. They are often in my thoughts, none more so than today."
In October last year, a service was held at Westminster Abbey to bless the saplings which now form the Trees of Life Glade.
A stately Spaeth Alder tree sits at the middle of the glade, where visitors are invited to stop and sit and take a moment to reflect.
Richard Webb-Stevens has worked for LAS for 24 years and earlier this year King Charles III presented him with the prestigious Queen's Ambulance Medal for his distinguished service.
Last year, Richard was honoured with an Outstanding Contribution Award at London Ambulance Service's annual public meeting.
Richard, who was born deaf, was recognised for the work he has done to inspire and empower the deaf community.
Both awards also acknowledged his bravery and devotion to duty, which he demonstrated as one of the first responders at the Westminster Bridge terror attack in 2017.