Aussie and New Zealand paramedics offered exciting opportunity to develop skills in London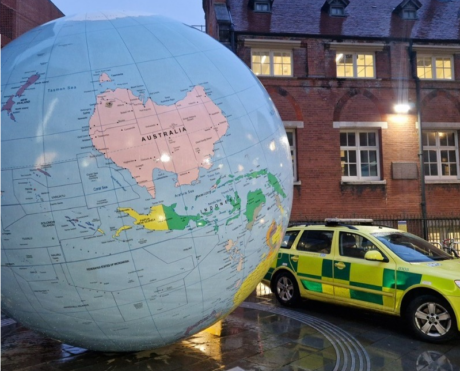 London Ambulance Service (LAS) is inviting Australian and New Zealand paramedics to join one of the busiest ambulance services in the world so they can learn, develop and broaden their expertise as clinicians.
Working in partnership with Australian and New Zealand universities, LAS is offering paramedics the opportunity to work in a variety of roles in London, such as with our hazardous area response team (HART), advanced paramedics, motorcycle response unit and London's Air Ambulance.
Those wanting to come and work in London have until early next week to apply.
Recruitment teams from LAS will then head to Australia in April to interview paramedic science graduates for jobs in the bustling capital of England.
Darren Farmer, Director of Ambulance Operations at LAS, said: "London is an incredible city to live in and work as a medical professional, and our Australian and New Zealand staff play such a vital role in caring for the people in the capital.
"Working as a paramedic in London will give you a level of experience and expertise which is second to none, with the opportunity to really develop your practice as a clinician and provide the best possible care to patients in their hour of need."
LAS first began a campaign to attract Australian paramedics in 2014 as they have similar skills and levels of training to their UK counterparts.
Today the Service employs over 2,500 paramedics, with nearly 500 from Australia and New Zealand.
Each year the service recruits around 500 paramedics, 50 percent of whom are recruited through apprenticeships and paramedic science degrees in the UK, with the rest of the paramedic workforce recruited internationally and from other NHS organisations.
To meet the current demand in London, the Service is hoping to recruit over 1,400 frontline staff, including paramedics, as part of its 2022-23 recruitment programme.
Recently named the top NHS employer for apprentices, LAS has also developed a successful apprenticeship programme to find talented staff in the UK.
London Ambulance Service offers support to successful candidates with their application, visa and relocation costs, and will cover the Health and Care Professions Council paramedic registration fee.
Once paramedics are recruited from Australia and New Zealand they undergo a short conversion course enabling them to treat patients in the UK.
Paramedic Zoë joined London Ambulance Service in 2020, and has loved working here since moving from Canberra in Australia.
Zoë, who studied on the Gold Coast, said: "There's so many different opportunities and every day is different. I love getting to work with different teams and meeting new people across the city."
Daynah is originally from Sydney and joined the Service in January 2021.
She said: "My favourite parts of the LAS are the opportunities I get which I wouldn't get anywhere else. In two years I've done more than I would have dreamed, in and out of work!"
Applicants need to apply before 21 March via NHS jobs website here.
Further information for applying:
For questions about the role, contact the London Ambulance Service recruitment team via 

[email protected]

Face-to-face interviews will be conducted in April in Brisbane, Melbourne and Sydney and successful candidates will be notified on the day of their interview.
You can find out more about careers and opportunities at London Ambulance Service on our dedicated webpage: londonambulance.nhs.uk/working-for-us/career-opportunities