London's Chief Paramedic urges people to look after themselves and their loved ones this weekend
People should look after themselves and their loved ones this weekend as London Ambulance Service prepares for further industrial action on Monday, when fewer ambulance crews and call handlers will be available.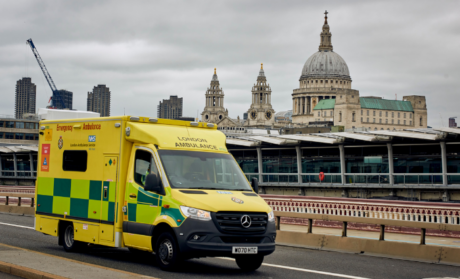 Monday is usually the busiest day of the week for the Service, as more patients need emergency help after the weekend. The low temperatures are also likely to see more people suffering injuries in the icy conditions and from respiratory illnesses on the day of the strike.
This weekend, people can help the Service respond to the sickest patients on Monday by taking small steps to keep themselves and their neighbours safe.
Dr John Martin, Chief Paramedic and Deputy Chief Executive at London Ambulance Service, said:
"This weekend, it's really important that people stay warm and look after themselves, have their medications, and seek medical help if they need it without ignoring their symptoms. NHS 111 online is always a good place to start.
"On the day of industrial action, there will be fewer ambulances on the roads and fewer call handlers in our control rooms assessing 999 calls.
"On a normal day, we have around 400 ambulances and 50 cars on the road. On Monday we will have about half of that, which will be made up of staff who aren't striking, clinicians from other NHS trusts, military personnel, and striking staff who are responding to life and limb calls from the picket line. This contingency cover will allow us to respond to those with the most life-threatening conditions."
Sending a message to Londoners, he added:
"Monday will be a challenging day for London Ambulance Service, but we are working to ensure that we get to those who need us most.
"If you or someone you're calling for has a life or limb threatening emergency – which includes unconsciousness, chest pain, difficulty breathing, severe loss of blood and choking – you should absolutely phone 999 and we will respond within minutes.
"If it's not a life-threatening emergency, but you are unwell and unsure of what to do, please do not ignore your symptoms and suffer in silence. NHS 111 can always direct you to the right path of care, including an ambulance if you need one.
"On behalf of London Ambulance Service, I want to thank Londoners for helping us during the last strike action by keeping 999 for life-threatening emergencies. On 11 January, we received just under 4,000 999 calls, which was 23 per cent lower than the previous Wednesday.
"Our staff worked incredibly hard, and everyone responded in the way we agreed – including leaving the picket lines when our sickest patients needed them. We had the support of local hospitals and saw very little delay in handing over patient care to Emergency Departments. Lots of senior GPs came to help in our emergency control centres.
"On Monday, we can all save lives by using 999 when in a genuine emergency."