Beat the distance covered by an ambulance in the capital
London Ambulance Service (LAS) is calling on Londoners to outrun the average distance an ambulance covers on a 12 hour shift as part of a unique fundraising challenge.
The Service is rallying participants to cover a 31-mile distance either in one go or across a period of up to three months for the 'Outrun an Ambulance' challenge, boosting challengers' health and wellbeing while fundraising for equipment, facilities and staff wellbeing at the country's busiest ambulance service.
Funds raised for the London Ambulance Charity will help support the welfare of LAS staff and volunteers who dedicate their working lives to providing life-saving care to people in need.
Jess Burgess, Head of London Ambulance Charity, said: "Our fantastic ambulance staff and volunteers always go the extra mile to provide emergency and urgent care when we need it most. Please help us go the extra mile for them by fundraising for this unique challenge.
"People have been really creative taking on the challenge and I hope participants use this as a way to improve their health in the new year and raise much-needed funds for the London Ambulance Charity."
Last year, LAS paramedics Tim Rouen and Thomas Tubridy (pictured above) ran the 31 miles in just one day to fundraise for the challenge, plotting a route that took them past 11 London Ambulance Service stations as a nod to colleagues working across the capital. Others spread the distance out over a number of days, while some swam, rowed and even scooted their way to the virtual finish line.
The Outrun an Ambulance participants raised over £10,000 of vital donations for the London Ambulance Charity in 2022.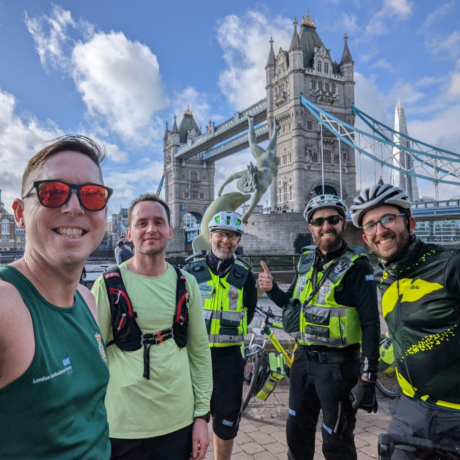 For more information and to set-up a personal fundraising page for the 'Outrun an Ambulance' challenge visit www.outrunanambulance.co.uk.
The challenge is highly inclusive and designed to suit all people and all abilities: participants have the flexibility to choose a timeframe and pick the method that suits them best.
Participants have up to three months to 'outrun' their chosen distance by at least one mile and can either go it alone or take on the challenge as part of a team.
As participants prepare for their challenge, we recommend speaking to their GP first if they have not exercised for some time or have any medical conditions or concerns. For further guidance visit www.nhs.uk/live-well/exercise.
For updates and to share experiences of doing the challenge visit the London Ambulance Service Twitter page and use the hashtag #ICanOutrunAnAmbulance.