Army cadets clap and cheer ambulance crew who treated their commander
Army cadets clapped and cheered a crew from London Ambulance Service (LAS) as they treated their Detachment Commander after a cycle accident.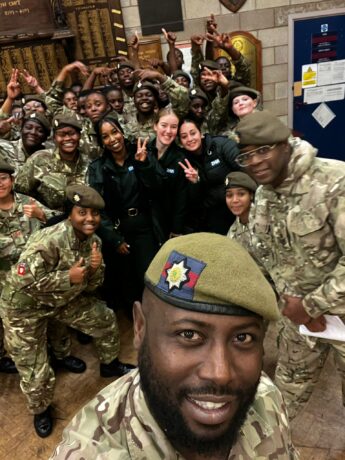 Lieutenant Joel Salubi was in a collision with a car while cycling to work at army reserve centre in Camberwell.
He continued on to work but when he got there, his colleagues and cadets were concerned he appeared to be in shock and were concerned it was masking more serious injuries. They insisted on calling an ambulance for the Detachment Commander.
LAS Emergency Medical Technician Laurinda Barbosa said: "We assessed Joel and fortunately he didn't need to be taken to hospital but what happened next really took me by surprise.
"As we were leaving, the commander showed us the hall where his cadets were taking part in drills and marching and the cadets all started clapping for us.
"They really welcomed us like we were part of the family. It was so lovely and they made us feel like superstars – it meant so much to us and really warmed our hearts."
Lieutenant Joel was also impressed with his treatment from Laurinda and her crewmates paramedic Amira Ahmed and student paramedic Jessica Rylander.
He said: "The ambulance staff that attended were exceptional in delivering a professional service to me that evening.
"They were selfless and displayed the values and standards that we live by in as cadets in this community."
The cadets were so impressed by the care given by the ambulance crew, some are now interested in joining the Service.
The commander added: "The cadets were inspired and many are looking towards having careers in London Ambulance Service and this detachment remains grateful to these heroes."
Advice and information about careers at London Ambulance Service can be found here: www.londonambulance.nhs.uk/working-for-us