London Ambulance Service urges New Year's Eve revellers to celebrate safely
New Year is traditionally the busiest time of the year for London Ambulance Service and medics at the Service are asking people in the capital to celebrate safely.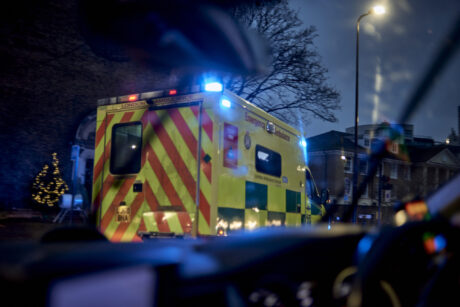 Our forecasting shows we are likely to receive more than 8,000 999 calls over New Year's Day as we see an additional surge in demand after midnight.
A typical busy day before the pandemic would have seen about 5,500 calls into our 999 control rooms.
We prepare for busy periods like New Year's Eve ahead of time with extra staff and response vehicles ready to go, and we will be doing all we can to ensure we reach the most seriously ill and injured patients as quickly as possible.
We will have extra control room staff on duty across London, more clinicians able to speak to patients who have called 999 to ensure they get the help they need, as well as additional ambulances and support vehicles out on the road throughout the city.
Assistant Director of Ambulance Operations Alex Ewings, said:
"We hope that Londoners who wish to celebrate the New Year have a fantastic night – but please enjoy the festivities safely and avoid ending your night in the back of an ambulance.
"We are already extremely busy this winter. Every avoidable alcohol-related call we attend means another patient who might have a life-threatening condition will wait longer and will potentially come to harm.
"It's important that Londoners use the 999 service wisely: only calling us when it's a serious medical emergency so we can prioritise responding to the most seriously ill and injured patients."
London Ambulance Service is asking revellers to take simple steps to help us manage demand for services on one of the busiest nights of the year.
Alex Ewings added:
"Before heading out, make sure you know how you and your friends are getting home and keep an eye on one another to make sure you all get home safely. And if you're drinking alcohol please be sensible – it's a good idea to eat a meal before and to drink soft drinks between alcoholic ones.
"If it's urgent, but it's not a serious medical emergency, please consider other options such as your GP, pharmacies or NHS 111 online. This should also be your first port of call if you're unsure what to do or unsure whether to go to A&E."
You can go to an urgent treatment centre if you need urgent medical attention, but it's not a life-threatening situation. Conditions that can be treated at an urgent treatment centre (also known as a walk-in centre or minor injury unit) include sprains, suspected broken limbs, cuts and grazes and minor scalds and burns.