Pedal-powered paramedics are award finalists for creating a greener ambulance service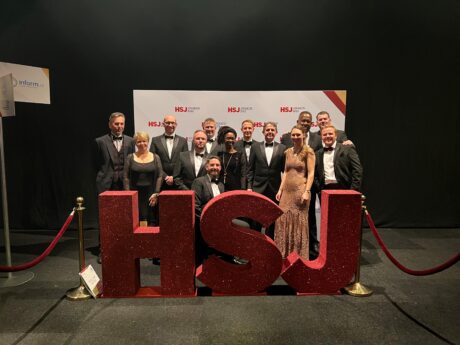 The London Ambulance Service's cycle response unit (CRU) were finalists at a prestigious awards ceremony last night (17 November) in recognition of their work to reduce carbon emissions and helping to pioneer a net-zero ambulance service.
The CRU were nominated for the 'Towards Net Zero' category at the HSJ Awards which recognise the very best achievements, innovations and best practice within the health and care sector.
Cycle responders are experienced frontline paramedics who operate in busy areas that are difficult to travel through in a car or ambulance such as narrow streets, pedestrian areas, parks, train stations, airports and shopping centres.
As well as excellent patient care, their pedal power means around 51 tonnes less carbon is emitted per year. The team has prevented over one thousand tonnes of carbon being emitted since it started operating in 2000 – equal to growing 55,000 trees for one year to capture emissions.
Over the last few years, LAS has taken action to reduce the environmental impact of its operations. In March this year it also announced it had secured £16.6 million pounds in funding to purchase new greener vehicles to make it the NHS trust with the largest electric response fleet in the country.
LAS Chief Executive Daniel Elkeles said:
"Well done to our cycle responders on becoming finalists for this award. The team plays such a fundamental role in the Service – meeting the needs of our patients in crowded areas, while freeing up our ambulance crews to attend higher-priority calls.
"Along with our new electric vehicles, they are at the vanguard of our mission to move to a net zero carbon emissions fleet by 2040. A cleaner London means a healthier population, and improves the lives of those with pre-existing health conditions that are worsened by pollution in the city."
Tom Lynch MBE, the cycle response unit manager who established the unit at the Service, said:
"I'm delighted that our team of highly-skilled cycle responders have been recognised for their sustainable efforts to improve the quality of life for our communities in the capital.
"By delivering on a greener service you can energise a workforce to do more than expected with value for money. Our workforce become healthier, more dynamic, inspiring others to look at ways of improving their own lives and the environmental impact they have on the world.
"Countless lives have been saved by a fast pedal-powered responder in traffic-congested London."
Visit our website to find out more about the exciting career opportunities available in the cycle response unit and the London Ambulance Service.
Our cycle responders and the care they provide Londoners was also the focus of a recent feature in The Times (behind a pay wall).