London Ambulance Service recognised for treating veterans fairly as poignant Remembrance ceremony takes place
London Ambulance Service (LAS) has been named as a Veteran Aware Trust in recognition of its commitment to improving NHS care for veterans, reservists, members of the armed forces and their families.
The accreditation of 'Veteran Aware' status makes the Trust an exemplar of the best care for veterans and recognises the progress made to ensure that members of the armed forces community do not face disadvantage when accessing NHS services.
As teams from across LAS gathered to mark Remembrance Day at special commemoration services, they also celebrated the accolade – awarded by the Veterans Covenant Healthcare Alliance.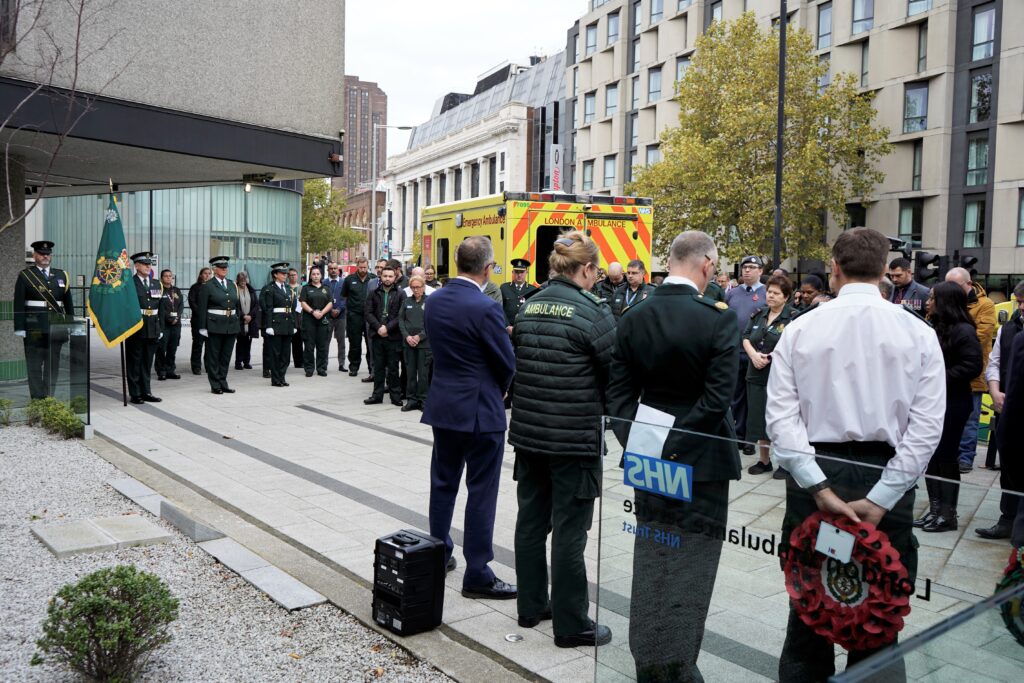 James Maskell, an LAS medic and former member of the Corps of Royal Engineers in The British Army, is also chair of the LAS Armed Forces Network. He said:
"I know first-hand that reintegrating back into the community after years of military service can be disorientating. That's why it's essential to break the additional barriers that veterans might encounter in the process.
"I'm really proud of the collective work we have made as a healthcare organisation, and I'm confident that we will continue to lead the way in making healthcare fairer for all."
The Veteran Aware status comes as LAS paid tribute to past and present members of the armed forces and their loved-ones in a ceremony at its Waterloo Road headquarters this morning.
At 11am, the Trust's ceremonial unit and executive team gathered around the memorial garden to pay respect to those who have sadly lost their lives in armed conflicts.
Darren Farmer, Director of Ambulance Services at London Ambulance Service, said:
"We are grateful for the incredible dedication and selflessness that military staff – past and present – have offered to the people of this country.
"We know that this community faces a number of different physical and mental healthcare challenges and we're proud to be working to improve their care. It is particularly touching to have achieved recognition of our commitment as we mark this year's Remembrance Day."
Professor Tim Briggs CBE, Veterans Covenant Healthcare Alliance National Lead, who awarded the status, said:
"Veteran Aware accreditation means that London Ambulance Service has made a huge commitment to the service men and women of this country. They should be very proud of the efforts they've made; I know I am.
"Thank you for the work you've all put in, despite the undoubted pressures I know you will be under at the moment."