London Ambulance Service invites Londoners to join training events around the capital to learn vital skills
London Ambulance Service (LAS) is urging Londoners to learn essential life-saving skills by holding training sessions to teach people techniques which could save a life in around five minutes.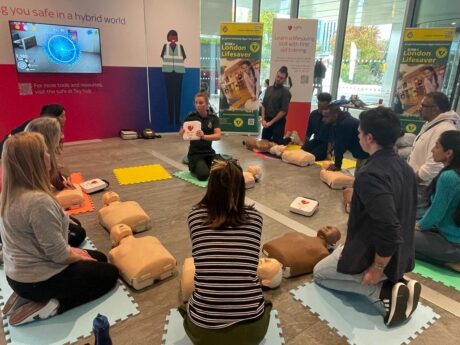 This Sunday (16 October) is 'Restart A Heart Day', an initiative spearheaded by the Resuscitation Council. LAS staff and volunteers will be holding drop-in sessions at London's major train stations teaching people how to do chest compressions (CPR) and to use a defibrillator – a device which gives a shock to revive someone should their heart stop beating.
It comes as provisional figures released this week by LAS show a record 70 per cent of people who had CPR performed on them over the course of the past year had some intervention from a bystander before LAS arrived. Around 40 patients were successfully resuscitated by a member of the public using a defibrillator nearby.
LAS is keen to boost the numbers of 'Good Samaritans' who are confident enough to intervene in a life-threatening emergency even further.
Samantha Palfreyman-Jones, Head of First Responders at LAS, says:
"Anyone can restart a heart. Whether that's by giving chest compressions, finding a defibrillator, or calling 999, everyone has a role to play in the chain of survival.
"Our figures show that Londoners are amazing at coming forward to help save a life but we want that number to be even higher because every second counts when someone is in cardiac arrest.
"That's why following Restart A Heart Day this Sunday we have a series of events to give people the confidence to step in when it matters – and it can take as long to learn as enjoying a cup of tea."
Restart A Heart Day is a national event run in partnership with the UK's ambulance services, universities and other charities to raise awareness of cardiac arrest and increasing the number of people trained in the vital skills.
The drop-in sessions open to the public will take place:
London Bridge station on Sunday 16 October, 9am to 4pm
London Euston on Wednesday 19 October, 9.30am to 4pm
Paddington station on Friday 21 October, 9am to 3pm
In the coming weeks, LAS will also be teaching first-aid skills to pupils of Whitmore High School, in Harrow, and to the staff of media organisation Sky and to staff at London's Heathrow Airport.
Steve White, Managing Director at Southeastern Railways, says:
"It's a privilege to host such an important and informative event at our London Bridge station.
"We have installed life-saving defibrillators at every one of our stations and depots and are proud to support London Ambulance Service in their work delivering simple life saving training to our customers and colleagues so that they have the confidence to be able to save a life when it really matters."
LAS's training initiatives are part of the much wider London Lifesavers scheme, which pledges to train at least 100,000 Londoners with the confidence to intervene when a patient suffers a cardiac arrest while ambulance crews arrive at the scene. It also commits to increase the number of public access defibrillators to 10,000, estimating that these achievements will help save 100 lives every year.
The London Lifesavers campaign is being made possible thanks to kind grants from the London Ambulance Charity and NHS Charities Together.
For more information about the London Lifesavers campaign visit: www.londonambulance.nhs.uk/LondonLifesavers.