Volunteers honoured for 'going above and beyond' for London during covid pandemic
More than 200 volunteers who work alongside London Ambulance Service (LAS) paramedics and other staff caring for Londoners were recognised at a national awards ceremony last night (Tuesday 6 September) for their extraordinary contribution.
Over the last year this team of volunteers 'gifted' more than 46,000 hours of their time to support the Service's response to the COVID-19 pandemic in a number of roles – from working on ambulances and taking blood samples for antibody testing to staffing helplines and offering comfort to patients waiting for ambulances to arrive.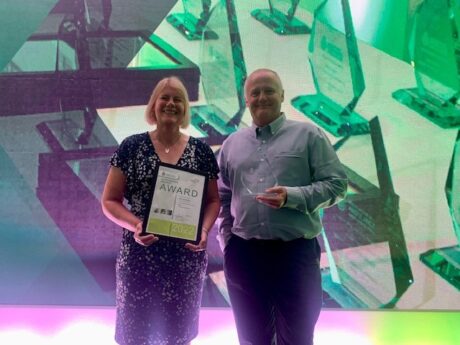 LAS Head of First Responders Sam Palfreyman-Jones and one of the longest serving volunteer emergency responders Tim Kirkby attended the prestigious event in Leicestershire to pick up the 'Team of the Year' award from the Association of Ambulance Chief Executives (AACE).
Sam Palfreyman-Jones said:
"This is a real honour. I'm thrilled to accept this award with Tim on behalf of our amazing volunteer team who give their time so selflessly to help support London Ambulance Service and Londoners."
Antony Tiernan, Director of Communications, who oversees the Service's volunteers, said:
"Volunteers play an extraordinary role across the NHS and in supporting London Ambulance Service so I'm delighted their extraordinary contribution over the past couple of years has been recognised.
"Our volunteers come from a wide range of backgrounds – from students to pilots – and we owe them a massive debt of gratitude for going above and beyond to support our paid staff during the pandemic. I was so proud to see them receive this important award."
There are different types of volunteering roles at London Ambulance Service from those who can perform vital first aid in their communities  to those who are trained to go out on shifts in uniform on blue lights responding to emergency 999 calls.
To find out more about getting involved as a volunteer, visit www.londonambulance.nhs.uk/volunteering