Santa's helper honoured with Freedom of the City of London
A paramedic who delivers Christmas presents to sick children in hospital and supported food banks during the COVID-19 pandemic has been recognised with one of the country's oldest civic honours.
Nigel Flanagan, 37, a paramedic at London Ambulance Service (LAS) for 20 years, was awarded Freedom of the City of London at a traditional ceremony at the Guildhall in Moorgate.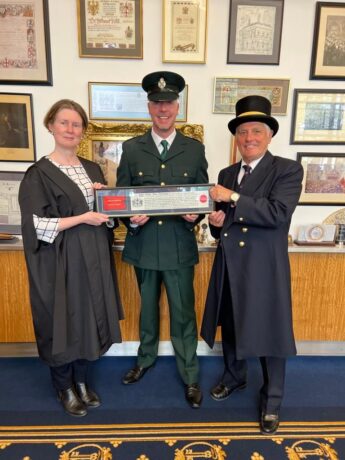 The ceremony dates back to 1237 and entitled a 'freeman' to earn a living in the City of London and not be subservient to a lord or baron. Traditionally, Freemen were able to carry a sword in public and drive sheep across London Bridge. However, these days most practical privileges have disappeared and the ceremony has become a London tradition.
Nigel received his award for a 13-year campaign delivering donations from staff, volunteers, friends and neighbours to children in London's hospitals on Christmas morning. When this became impossible due to the pandemic in 2020 and 2021 when hospitals had to restrict access to visitors, Nigel organised drives to collect food for almost 40 food banks around the city instead.
Speaking of the award, he said:
"I'm thrilled. I won't be carrying any swords or driving sheep across bridges any time soon but it is a wonderful honour and I'm privileged to be a part of this tradition."
At the event last Wednesday afternoon, Nigel was invited to read the 'Declaration of a Freeman' and to sign the Freeman's Declaration Book watched by his parents, his wife Carly, her parents, and his three children Albie, Arlo and Alana.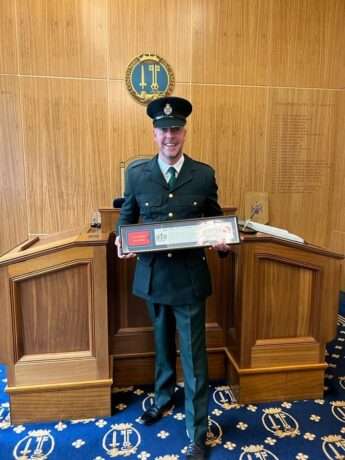 The Copy of the Freedom – a parchment document with the name of the recipient beautifully inscribed by a calligrapher – was presented by the Clerk, together with a copy of the 'Rules for the Conduct of Life' which date from the mid-18th century. The Chamberlain then extended the right hand of fellowship and greeted Nigel as 'a Citizen of London'. After the ceremony, the family went out to lunch to celebrate.
LAS Chief Executive Daniel Elkeles said:
"I'd like to congratulate Nigel on this honour and thank him for his dedication over the years and bringing a little bit of joy for hundreds of children who cannot be at home for Christmas morning."
The LAS Christmas tradition started after Nigel took a small child to hospital 15 years ago and heard how sad he was that he would be unable to open a present.
"It really stayed with me and I thought what can I do? It started with two hospitals but everyone really rallied behind the idea and it just grew and grew until in 2019 we went to about 40 hospitals," he said.
Nigel is currently making plans to resume his Christmas toy campaign for 2022 and will announce details of how people can be involved shortly.