Cup of cha-cha-cha? AJ and Curtis serve London Ambulance Service staff for NHS Big Tea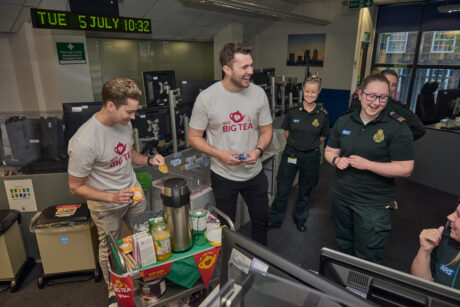 Strictly and Love Island stars AJ and Curtis Pritchard paid a surprise visit to the London Ambulance Service's 999 control room at Waterloo and took one of the Service's 'tea trucks' for a ride across the capital as part our NHS Big Tea celebrations to mark the NHS's 74th birthday.
The brothers pushed a tea trolley around the 999 control centre, serving 999 call handlers well-deserved tea, cakes and fruit.
Chief Executive Daniel Elkeles, said: "I would like to say a huge thank you to Curtis and AJ for taking the time out of their busy schedules to visit us – we are touched that they would choose to mark the birthday of the NHS speaking to our staff and volunteers, and even serving the teams with teas and coffees.
"The NHS is now the grand old age of 74, and after the unprecedented challenge of the past two years, today's celebrations were really welcome. We're very grateful to the Pritchard brothers for celebrating with us, and bringing some extra star-power to our NHS Big Tea events."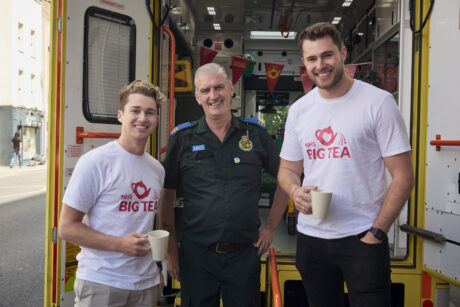 After speaking with staff and volunteers at Waterloo about their experiences during the pandemic and beyond, the brothers travelled in one of our tea trucks to deliver treats to ambulance crews at Chelsea and Westminster Hospital.
London Ambulance Service has received funding from NHS Charities Together to run tea trucks which deliver hot drinks and snacks to our crews across the capital – giving staff and volunteers a chance to take a moment to pause, chat and refresh.
There are seven tea trucks which visit crews who are handing patients over to hospital. This was particularly important during the pandemic, when shops and cafes were shut because of lockdown.
The tea trucks have been staffed by people from across our service, mainly from those who are not currently able to be patient-facing but also from union colleagues and staff coming in on their days off to help.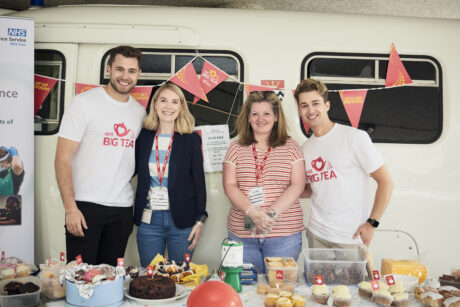 For today's NHS Big Tea campaign, volunteers at the London Ambulance Service also helped serve staff treats and snacks at the Service's wellbeing cafés and organised a fundraising cake sale for members of the public outside our headquarters.
Brothers AJ and Curtis, who have been professionals on Strictly Come Dancing and Ireland's Dancing with the Stars respectively, have a close personal connection to the NHS after AJ's girlfriend Abbie Quinnen was treated at Chelsea and Westminster's specialist burns unit, following an accident. 
The dancer and model spent seven weeks in hospital receiving skin grafts to treat her injuries. Since then, the Pritchards have been vocal supporters of the NHS and the work of NHS charities across the UK, which raise vital funds to help the NHS go further for staff, volunteers and patients.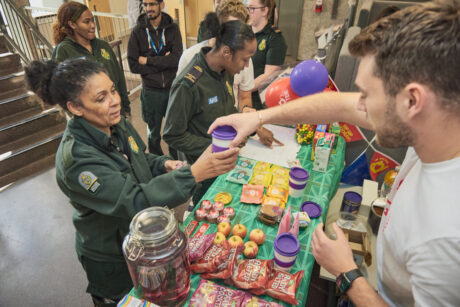 Speaking ahead of the visit, AJ said: "The NHS is incredible but it's been a tough few years and they need our support now more than ever. Funds raised from the NHS Big Tea help NHS charities continue to do their vital work, and Curtis and I are so happy to help shine a spotlight on the amazing contribution London Ambulance Service staff and volunteers make to the NHS – and have a little boogie of course, like you should at any good birthday party!"
Reflecting on the morning, Curtis said: "We have loved getting chance to thank London Ambulance Service staff and volunteers, celebrate and fundraise today for the NHS Big Tea, as well as hear about people's experiences over the last couple of years during the pandemic. What many of them have been through is truly harrowing but it's not over, and I'm totally inspired by their dedication.
"The NHS does an amazing job but it can't face every challenge alone, which is why the extra support provided by NHS charities to staff, volunteers and patients is so vital. This is our chance to help and say a big, heartfelt thank you."